We researched over 100 Chiropractor in Wichita, and out of these, we've listed the 3 best and most popular Chiropractor according to our team research, customer reviews, and popularity.
Also See: Find Best Chiropractor Near Me (Search By Zip Code)
1. Wilbeck Chiropractic-East Clinic
If you're suffering from low back pain, neck pain, headaches or something else and searching for the best chiropractor in Wichita city of Kansas state then you should visit Wilbeck Chiropractic-East Clinic now. This is a chiropractic clinic in the Wichita area dedicated to improving the health of nearby communities with natural healthcare.
Dr. Taylor Wilbeck and Dr. Wesley Detrick are chiropractors in Wichita that focuses on the treatment of musculoskeletal disorders including headache, neck pain, low back pain, injuries from auto accidents, sciatica, pregnancy related low back pain and many more.
You can take their $75 new patient special. To improve your experience in this clinic, they encourage new patients to download and fill out their new patient intake form before arriving for their first appointment.
Address: 3743 N Rock Rd #200, Wichita, KS 67226
Phone: (316) 444-4179
Open Hours: Mon – Thu (8 am – 1 pm, 2-6 pm), Fri (8 am – 12 pm, 3-5 pm), Sat & Sun (Closed)
Website: https://wilbeckchiro.com
2. Optimal Wellness
Optimal Wellness located at 3017 N. Cypress Dr. Suite B. in Wichita, Kansas. This clinic is conveniently located south of K-96 between Rock Road and Webb Road. This chiropractic office in Wichita is staffed with passionate professionals. Optimal Wellness is focused on inspiring and supporting healthy lifestyles in all their patients. They do their best to provide a consistently outstanding experience every time you walk through their doors.
Optimal Wellness was started to better serve Wichita community members in their desire for better health. Dr. Hands and Dr. Grenier provide exceptional chiropractic care in Wichita, KS. Here, all doctors and medical staff are passionate about educating and teaching their patients on how to live a healthy lifestyle naturally without relying on drugs, medications, or surgery.
Address: 3017 N Cypress Dr Suite B, Wichita, KS 67226
Phone: (316) 425-1911
Open Hours: Mon & Wed (9 am – 1 pm, 3-6 pm), Tue & Thu (3-6 pm), Fri (9 am – 1 pm), Sat & Sun (Closed)
Website: https://www.mywichitachiro.com
3. Engelken Chiropractic & Acupuncture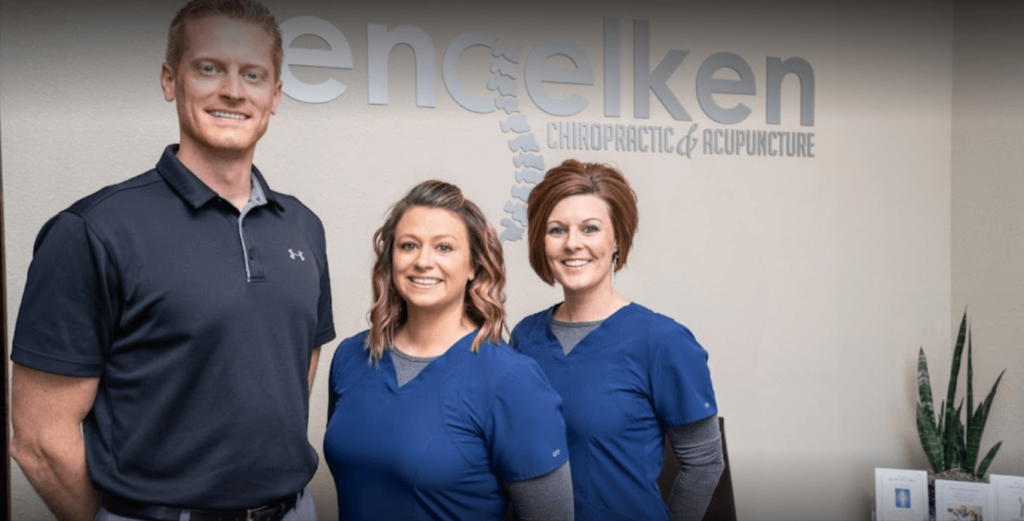 This is another best chiropractic care office in Wichita that provides see patients of all ages, from children to seniors and all ages in between. The most important thing is that Dr. Dave Engelken helps patients feel completely at ease, particularly if they've never had chiropractic care before.
This might be your friendly and relaxing environment to begin or continue your healing journey. Chiropractor of this clinic is always available for you whether you're a mom-to-be seeking relief from pregnancy-related discomfort or are suffering from an auto accident injury.
In addition to chiropractic care, they also offer needleless acupuncture, auto accident care, and pregnancy and pediatric chiropractic. At Engelken Chiropractic & Acupuncture, they provide patients with natural help and unwavering hope. Recently this clinic was awarded for the second time as "Best Chiropractor" for the Wichita Eagle Readers' Choice contest.
Address: 2621 N Greenwich Rd Suite 500, Wichita, KS 67226
Phone: (316) 440-6888
Open Hours: Mon – Thu (10 am – 6 pm), Fri, Sat & Sun (Closed)
Website: https://www.drdavesoffice.com