"Located in Phoenix and in need of the best Phoenix animal doctor? It's unnecessary to continue your search. It's no exaggeration to say that some of the best vets in the country can be found in Phoenix. In fact, there are more than a thousand certified veterinarians in the Phoenix area, making it one of the top ten cities in the US for veterinary employment.
More than 60% of families in Phoenix have at least one pet, making it one of the top cities in the country for pet ownership. As a result, Phoenix now ranks among the best places to own a pet in America. Therefore, whether you're looking for a routine checkup or a more complex surgery, you'll find what you're looking for in Phoenix. In the following paragraphs, we'll take a closer look at the top Phoenix veterinarians and the characteristics that make them stand out."
Also See: Find Best Veterinarian or Vet Clinic Near Me | Search By Zip Code
1. North Kenilworth Veterinary Care
North Kenilworth Veterinary care that is located in Central Phoenix, Arizona, comes with a promise that they deliver advanced medical treatment along with compassion to your beloved pets. They understand the bond between you and your friends and deliver the best veterinary treatment that your pet deserves.
This veterinary or vet clinic is an exclusive small animal clinic located among the historic districts of central Phoenix, Arizona, and specializing in medical and surgical care for your pet companions. Veterinarian of this clinic care for all breeds of dogs, cats, and rabbits.
North Kenilworth Veterinary care offers vaccinations, life stage blood tests, parasite control, nutrition, training counsel, spaying and neutering, dental care, microchip identification implantation, and many more veterinary services. North Kenilworth Veterinary Care is equipped with various modern surgical and modern equipment's which allows them to provide full-range diagnostic tests and procedures.
Website: https://www.northkenilworthvet.com
Address: 342 W McDowell Rd, Phoenix, AZ 85003
Phone: (602) 374-3091
Services: Preventative Medicine, Diagnostic Procedure, Surgery, Pharmacy, Nutrition, Grooming, Training, etc.
Working Hours: Mon – Fri (7 am – 5 pm), Sat (8 am – 4 pm), Sun (Closed)
Reviews
This is Ellie's neighborhood vet. She's a 4-year old lab, total champion dog. The doctors and staff at North Kenilworth have known her since puppyhood. They are always cheerful and attentive. Along with great care for Ellie, I feel like they take care of me as a dog owner too.
We have been bringing our pets to North Kenilworth Vet Care for more than 4 years. The Doctors and staff are AWESOME! Friendly, compassionate, knowledgeable. They were there for my family and me when a couple of our furry family members crossed over the rainbow bridge. They were so kind. Love this place.
Dr C and the staff are awesome beyond words. Can't say enough about there wonderful care and followup. I came to their practice after having a bad vet so they have been a wonderful group. They are the best!
2. All Creatures Animal Clinic
This clinic was established by Dr. Irvin Ingram in 1987. Here, each doctor brings a unique view of veterinary medicine and each is highly regarded by their clients and their clients' furry family members.
All Creatures Animal Clinic provides the highest quality veterinary care to your dogs, cats, exotic pets, pocket mammals, and other small animals. They provide various services like diet and nutrition, vaccinations, wellness and preventive care, microchipping, parasite control, dentistry, and many other veterinary services.
All Creatures Animal Clinic intends to ensure the best treatment for your pet and make sure that you and your pet are comfortable during the session and all the issues are addressed. They gives access to various diagnostic services like radiography, EKG, allergies, and other laboratory services. The hospital is also accredited by American Animal Hospital Association (AAHA).
Website: https://www.allcreaturesanimalcl.com
Address: 4022 E Greenway Rd Suite 7, Phoenix, AZ 85032
Phone: (602) 493-5090
Working Hours: Mon – Fri (7 am – 6 pm), Sat (7:30 am – 1 pm), Sun (Closed)
They always take wonderful care of my fur baby when we take him in for appointments. The staff is always super friendly and office is clean. Every time I have questions they give me a bunch of information and print outs to better understand things. They make me feel like we are in good hands! Definitely recommend this place!
I travel across the Valley, from 77 Av and Greenway Rd, because I totally trust Dr Bob with my babies. He is caring, considerate, knowledgeable and I know I am putting them in safe hands. All the staff there are wonderful. It's worth the trip!
The veterinarian my cat sees is very knowledgeable about my cat's needs. She is kind and supportive. And another veterinarian at this office who removed a cancerous tumor from my cat's neck because he is very experienced at doing this was extremely supportive. I am glad I found this veterinary clinic to take care of my cat.
3. The Scottsdale Veterinary Clinic Phoenix
Scottsdale Veterinary Clinic was the first veterinary clinic established in Scottsdale, Phoenix and was founded about 60 years ago. They serve all pets ranging from dogs and cats to rats, rabbits, ferrets, guinea pigs, reptiles, exotic pets, and other small animals. Scottsdale Veterinary Clinic provides top-notch animal 24/7 emergency services and the best veterinary treatment in the Phoenix city.
Here, all of its doctors and staff are animal lovers with pets of their own, ranging from dogs and cats to parrots, rabbits, rats, guinea pigs, ferrets, reptiles and other birds and exotic pets. They always want to treat your pets as if they were their own, because a great pet deserves a great vet.
So if you're searching for the best 24 hour veterinary clinic or animal hospital for your pet in Phoenix city then Scottsdale Veterinary clinic might be a great option for you.
Website: https://scottsdaleveterinaryclinic.com
Address: 7311 E Thomas Rd, Scottsdale, AZ 85251
Phone: (480) 945-8484
Working Hours: 24 Hours
Services: vaccinations and preventive care, high definition 3D CT Scanning, Hyperbaric Oxygen Therapy, Endoscopy service, Emergency Medicine, Acupuncture, Flea and Tick prevention, Cold Laser Therapy, Avian Medicine and surgery, Valley Fever Therapy, Radiography, Dental cleanings, Tooth extractions and many more.
Pricing
Reviews
I see they are doing some work. They are so popular and so loved by our community, they are to busy. However I would not go anywhere else! 5 star for sure
I only recently found this 24 hours clinic when I had to have 3 cats treated in the last few months for different reasons. I was very pleased with the care and attention I received. I would highly recommend this facility.
Every time I bring my cat Flakes here the staff is super nice, and professional. In emergency situations they are quick to respond and do what needs to be done to help. Wait times can be a little long and appointment availability is scarce right now, but this vet is worth the wait if you can wait.
4. Camel west Animal Hospital
This is one of the well-established, full-service veterinary hospital in Phoenix providing comprehensive medical, surgical, and dental care for your pet. They offer a broad spectrum of diagnostic procedures through in-house testing and the use of external laboratories.
Camel west Animal Hospital provides all that your beloved pet needs. They are dedicated and have provided the highest quality veterinary treatment your pet needs for more than 30 years. Camel west Animal care gives you access to various services like parasite control, vaccinations, microchipping, wellness and preventive care, diet, and nutrition. They also provide diagnostic services like radiography and other laboratory services.
Camel west Animal Care serves a wide variety of pets, including common household pets, exotic pets, reptiles, etc. They offer many X-rays, hospital laboratories, dental and surgical suites, and the best-supervised hospitalization area.
Website: https://www.camelwest.com
Address: 10045 W Camelback Rd Suite 105, Phoenix, AZ 85037
Phone: (623) 934-1272
Working Hours: Mon – Fri (8 am – 12 pm, 1 – 5 pm), Sat (8 – 12 pm), Sun (Closed)
Reviews
So happy I chose this place for my dog, Walter.. The entire team makes you feel welcomed. Everyone is so friendly and very helpful. The environment is clean and the atmosphere is calming. Dr Sander is amazingly awesome.. thank you everyone, job well done.
Very clean and well taken care of clinic. The people at the clinic are very professional and knowledgeable about answering and handling my pets needs. Thank you Camelwest Animal Clinic for taking care of my pet….
Took my anxiety riddled rescue dog here to see about some calming meds. Dr. Sander was so sweet and so gentle with her. My dog is normally terrified of strangers but warmed up to Dr. Sander very quickly. We got her meds and she also gave me tons of helpful information for training and food recommendations. Thank you!
5. Ingleside Animal Hospital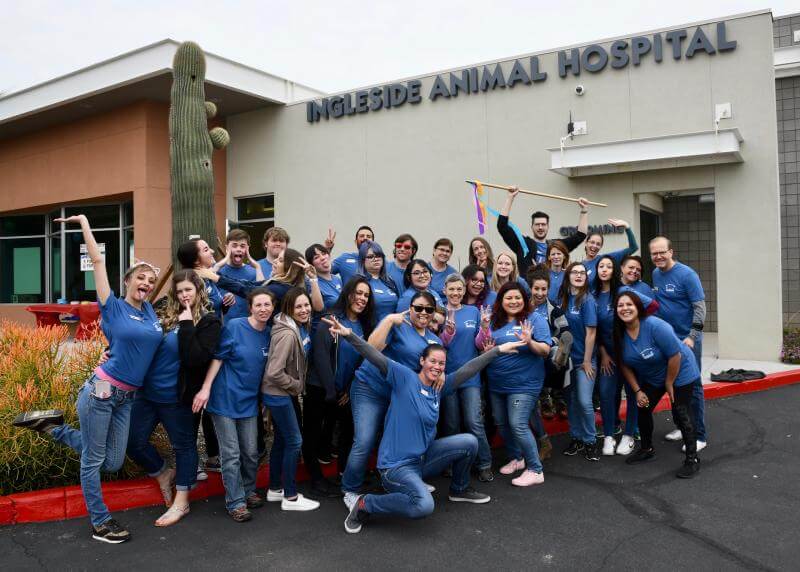 Ingleside Animal Hospital is one of the best veterinary clinics in the Arcadia area and has been serving for about 57 years. It is a hospital accredited by American Animal Hospital Association (AAHA). This popular pet care clinic is dedicated to providing high-quality veterinary care to patients in an atmosphere of compassion and excellence.
One of the best thing about this pet clinic is that this is located in the Arcadia area of Phoenix and serving the communities of Scottsdale, Tempe, Paradise Valley, and the entire Phoenix metro area. Another best reason for choosing this veterinary clinic is that in addition to a traditional array of veterinary services, they also offer several alternative therapies, including therapeutic laser therapy.
Ingleside Animal Hospital offers various services like allergy testing, boarding, cardiology, anesthesia, dental care, diagnostic emergency, emergency care, deworming, laser therapy, vaccination, surgery, behavior services, cancer treatment, eye care, integrative medicine, pain management, wellness exams, senior care, and many more veterinary services to your pets. Ingleside Animal Hospital aims to provide compassionate, caring, and quality care for your pets.
Website: https://www.ingleside.com
Address: 4855 E Thomas Rd, Phoenix, AZ 85018
Phone: (602) 840-3446
Working Hour: Mon – Fri (7 am – 1 pm), Sat – Sun (8 am – 3 pm)
Reviews
So far the best vet I've dealt with in the valley. Dr.Klein was amazing. Explain everything in under stable terms, very careful when handling my dog. The office staff is very nice as well. Definitely staying with vet now.
Very nice facility with friendly and caring staff. Like any medical office, sometimes the wait is impacted by the very being involved in a procedure that takes longer than expected. Lobby is now open (mask required) in addition to the curbside waiting started for COVID protocols.
We have been taking our dog here for years. Starting going here when we lived closer and still go even though we are about 15 minutes away. The doctors and nurses are all so sweet to our little girl and up front about all costs.
6. Canyon Animal Hospital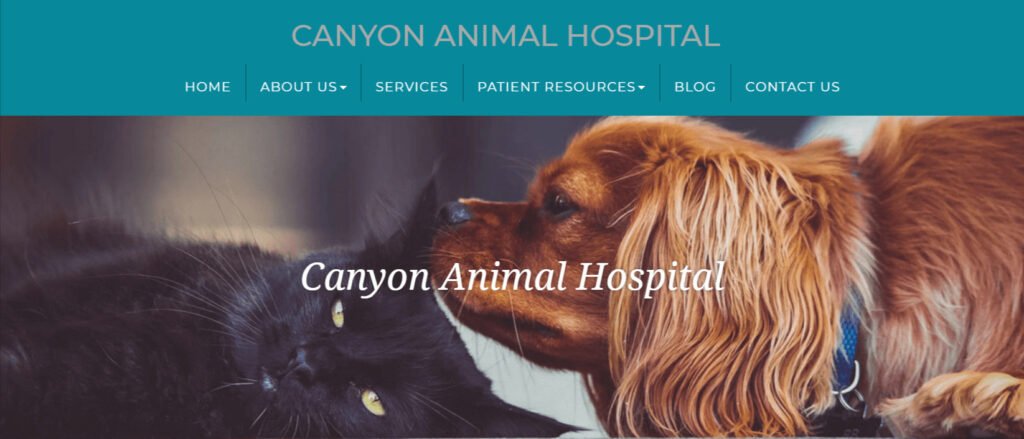 Canyon Animal Hospital is a private hospital owned by Dr. Kelly Hohm Dhm and Dr. Lori Hohm Dhm. This pet care hospital provides the best animal care to your pets. They're privately owned hospital (not a corporate practice). Veterinarian take pride in the compassionate care they provide and will treat your pets as if they were their own.
Canyon Animal Hospital offers various services that include vaccinations, Valley Fever Testing, Dental cleanings and treatments, Digital X- Rays, soft tissue surgeries, wound management, microchipping, C-Sections, some orthopedic surgeries, spays and neuters, bloodwork and urine testing, heartworm testing, wellness, and sick examination and emergency services.
Website: https://canyonanimalhospitalphoenix.com
Address: 15411 N 31st St, Phoenix, AZ 85032
Phone: (602) 971-9651
Working Hours: Mon – Fri (8 am – 6 pm), Sat & Sun (Closed)
Reviews
We were seen quickly and given ample attention for any questions and concerns. Great staff and experience all around. Lucy is a happy and healthy puppy!
I love Canyon Animal Hospital. I've been going to them for years. I started when Dr Foster owned the practice. I was just as happy when DrsKelly and Laura took over. Dr Kelly always gives me good advice and is great with my dog!
Dr Hehn and staff are amazing. I drive from Cave Creek to have my Doberman taken care of. He saved her life as a puppy when she accidentally ate a rock. She is now 3yrs old and without Canyon Animal Hospital we would've lost her. I would never take her anywhere else. They truly are the best in the valley.
7. BlueCross Veterinary Clinic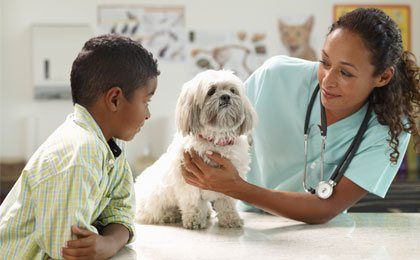 Blue Cross Veterinary Clinic offers the best veterinary treatment and boarding services to your pets. Their staffs are experts in treating pets and are very knowledgeable and compassionate. Blue Cross Veterinary Clinic aims to be a one-stop vet clinic in Phoenix. It was established sixty years ago and had been offering amendable veterinary services to your pets.
They firmly believe in working with a genuine staff who care for their patients and give compassionate treatment to them. They also aim to be compassionate and caring towards their pets. Blue Cross Veterinary Clinic provides amazing services like dentistry, surgery, microchipping, vaccinations, radiology, laser therapy, preventive care, ultrasound, diagnostic services, spay and neuter, and emergency services.
So if you're searching for the top-rated veterinary clinic near me then visit to BlueCross vet clinic because they offer the best medical and boarding facilities for pets of all type. Also, their staff and veterinarian are trained and knowledgeable in treating pets and they are passionate about their work.
Website: https://www.bluecrossvetltd.com
Address: 4111 N 36th St, Phoenix, AZ 85018
Phone: (602) 955-5980
Working Hours: Mon – Fri (7 am – 5 pm), Sat (8 am – 12 pm), Sun (Closed)
Reviews
SAFE & CARING!!! Love the level of care and knowledge they bring without being pushy or condescending. My family and pets felt safe to bring them in especially with all of this COVID uncertainty.
They are the THE best. I have a Yorkie that has so many physical challenges. They help me so much. They are kind and loving to my dog but also to me when I am freeking out. Absolutely everyone there is wonderful.
Dr. James was extremely thorough with her examination. Everybody is extremely helpful and care. It was the first time I had been there and I am so happy I found out about them.😊
8. Phoenix Dog/ Cat Hospital
Phoenix Dog/ Cat Hospital is a private hospital that takes pride in the high-quality and compassionate veterinary services to their client's pets. Phoenix Dog/ Cat Hospital offers splendid services like wellness exams, vaccinations, dental care, surgery, house calls, radiology, ultrasound, laser therapy, boarding, and other veterinary services.
This veterinary clinic of Phoenix is an independently owned practice and take pride with the personalized individual care that they offer. Their practice is a full-service veterinary medical facility, located in Phoenix, AZ. All veterinarian are professional and courteous staff seeks to provide the best possible preventative, medical, surgical and dental care for their highly-valued patients.
Veterinarian of this clinic are committed to promoting responsible pet ownership, preventative health care and health-related educational opportunities for their clients in Phoenix and surrounding areas.
Website: https://www.phxveterinarian.com
Address: 3418 N 7th Ave, Phoenix, AZ 85013
Phone: (602) 274-0561
Working Hours: Mon – Fri (7 am – 6 pm), Sat (8 am – 6 pm), Sun (10 am – 4 pm)
Reviews
Helpful front desk staff. I was a a bit late, but they let me keep my appointment. The various steps involved in the appointment for my new puppy.. weight, wellness exam and getting chipped, were seemless. Friendly vet tech and Lara, the vet, is the best!!! You can tell she really loves animals and her job.
Dr. Giffords and the whole staff are so friendly and kind. He is sincere and helpful, very knowledgeable and definitely cares about his clients (and their parents). Our friend referred them to us and we are so appreciative to have found our new vet home!
Dr. Sosnow and the staff at Phoenix Dog/Cat Hospital are incredible! The technicians were knowledgeable and friendly. Dr. Sosnow was thorough in her examinations and did not rush through my appointment. I did not have to wait to be seen. What a pleasant experience!
FINAL LINE:
For people who own pets or other livestock, getting them checked regularly by veterinarians is vital. Veterinarians are doctors for animals. They treat the sick and injured animals that need help. Because of this, they are useful in society and create a great impact on our society.