The skin is the body's biggest and most visible organ. It reflects the body's health and serves as a barrier against damage and germs. Skin diseases affect almost everyone at some point in their lives, including babies, adolescents, teens, adults, and the elderly.
A skin issue is a reason for one out of every six (15%) visits to the family doctor (GP). Dermatology is a branch of medicine that focuses on skin problems. A dermatologist is a doctor who specializes in skin, hair, and nail problems. Dermatologists treat individuals of various ages, from infants to the elderly.
Dermatologists can help with a wide range of skin, hair, and nail problems. The following are a few of the most frequent ailments they treat:
Acne: A dermatologist may treat chronic acne with topical treatments, medicines, lasers or other light therapies, chemical peels, or the removal of big cysts, depending on the severity of the disease.
Skin: Cancer is a kind of cancer that affects the skin. Skin cancer may strike anyone at any time and on any part of your body. A dermatologist can remove cancer cells and treat the disease.
Dermatitis: Dermatitis refers to a group of skin diseases that are characterized by inflammation and irritation. Eczema, cradle cap, and allergic responses are examples.
Infections: Viruses, bacteria, fungus, and parasites may all enter the skin and cause a wide range of skin diseases. A dermatologist can assist in determining the source of infections and prescribing appropriate therapy.
We will look into some of the best dermatologist in the city of New York to help you on any kind of skin diseases or problems.
Also See: Find Laser Hair Removal Near Me (Search By Zip Code)
1. Washington Square Dermatology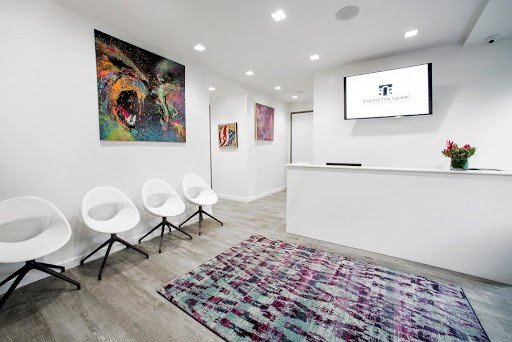 Franks Physician Assistant Located at 18 Washington Square N, New York, NY 10011. This clinic in New York is one of the best clinics that handle patients of all ages and skin types, as well as providing complete medical and cosmetic dermatologic treatment. It is led by Dr. Samer Jaber who has over 16 years of experience and has been acknowledged on many "Best Doctor" lists and was selected as a New York Times "Super Doctor Rising Star" in 2015 and 2016.
The doctors are here are very friendly and are passionate about dermatology. The clinic is equipped with the best of technology in the industry to treat their patients with utmost care and provide exemplary service. They are known for being highly empathetic, most attentive, responsive & compassionate while they treat their patients.
Address: 18 Washington Square N, New York, NY 10011
Open Hours: Mon – Fri (8am – 6:30pm), Sat & Sun (Closed)
Phone: (212) 256-1075
Website: http://www.washingtonsqderm.com
2. Laser & Mohs Dermatology of New York
In the heart of Midtown Manhattan, Laser & Mohs Dermatology of New York is situated in Times Square. For all of their operations, they use contemporary, state-of-the-art medical technology and are dedicated to patient care and comfort. This best dermatology clinic in New York is exactly located at 130 W 42nd St #1900, New York, NY 10036 provide the most modern techniques for skin cancer screening and early diagnosis and the most recent advancements in the treatment of skin problems and the surgical removal of malignant tumours.
It is led by Dr. Adelle Quintana with over 20 years' experience & their goal is to offer a thorough evaluation and therapy for their patients' entire dermatological health. Patient education, they think, is one of the most effective methods to improve skin health, as well as provide preventative care recommendations to help them reach maximum wellbeing.
Address: 501 5th Ave Suite #604, New York, NY 10017
Phone: (212) 391-8600
Open Hours: Mon – Fri (7:30am – 8pm), Sat & Sun (Closed)
Website: https://www.laserandmohs.com/
Google Rating: 4.9
3. Chelsea skin & laser
Chelsea Skin & Laser is a New York City leader in personalized caring, individual attention, and the finest dermatology. They provide professional treatment in a quiet, serene environment to make one's skin healthier, feel better, appear fresher, and younger. Dr. Michael Eidelman and Dr. Brian Ginsberg are two of the most well known New York dermatologists who use cutting-edge medical and cosmetic dermatological treatments.
They provide patients their full and undivided attention when it comes to their dermatological requirements. This best dermatology clinic is located at 245 W 19th St, New York, NY 10011 and are well-known for natural-looking cosmetic results with artfully executed treatments: Botox, Belotero, Dysport, Juvederm, Kybella, Restylane, Sculptra, Volbella, Vollure, Voluma, permanent Laser Hair Removal, IPL, or fractional laser.
Address: 245 W 19th St, New York, NY 10011
Phone: (212) 675-0549
Open Hours: Mon (8:30am – 6pm), Tue (9am – 5:30pm), Wed & Thu (8:30am – 5:30pm), Fri (8am – 5pm), Sat & Sun (Closed)
Website: https://chelseaskincenter.com/
Google Rating: 4.9
4. The Dermatology and Laser group
This dermatology clinic in New York is located at 110 E 60th St #606, New York, NY 10022 was founded by Dr. Arash Akhavan who is a board-certified dermatologist, provides compassionate care with advanced edge technology. For over 5 years in a row, he has been named a Castle Connolly Top Dermatologist in New York, as well as a New York Magazine Best Dermatologist.
They think that by providing the most effective treatment while maintaining the greatest safety standards, they will be able to provide care that will leave patients with the happiest experience possible at a cosmetic clinic in New York City. They understand each patient on a personal level to connect to their unique needs that will help them devise a personal treatment journey to solve all the issues associated with the patient's skin.
Address: 110 E 60th St #606, New York, NY 10022
Phone: (212) 444-8204
Open Hours: Mon – Thu (9am – 7pm), Fri (9am – 5pm), Sat & Sun (Closed)
Website: http://dermatologyandlasergroup.com/
Google Rating: 4.9
5. Pura Dermatology Hudson Yards
Pura Dermatology's Dr. Saurabh Lodha and team are committed to delivering compassionate, personalized, and comprehensive dermatologic treatment. Dr. Lodha is a clinical instructor at Columbia University and is engaged in didactics and resident preceptorship, and is an American Academy of Dermatology Fellow and a diplomat of the American Board of Dermatology.
His work has appeared in several medical publications, and the clinic is known for its work in melanoma, auto-immune skin disorders, and cosmetic dermatology. Pura Dermatology, located at 446 W 38th St, New York, NY 10018, will provide a relaxing atmosphere in which the doctor-patient connection is prioritized.
They take a comprehensive approach to each meeting, addressing all of our patient's questions and concerns. This best dermatology clinic will welcome their patients with a warm and friendly team, and patients will get individualized attention.
Address: 446 W 38th St, New York, NY 10018
Phone: (646) 706-7747
Open Hours: Mon – Thu (9:30am – 3:30pm), Fri (9:30am – 3pm), Sat & Sun (Closed)
Website: https://puradermatology.com/
Google Rating: 4.8
6. Centre Aesthetic & Dermatology
Center Aesthetic & Dermatology is where patients will find beauty. This is the motto, conviction, and the foundation of one of the best dermatology clinics located at 37 Union Square W floor 4, New York, NY 10003. Their goal is to assist every patient in thriving boldly from the inside out.
Dr. Cheryl Karcher, a Board-Certified Dermatologist, and Nurse Lynn Wojton are two of the world-class experts. They have a team of certified physicians, have over 40 years of expertise in clinical and cosmetic dermatology and aesthetic and non-surgical body treatments.
They have an all-female team of physicians who can assist in addressing virtually any cosmetic issue with a non-surgical approach that makes them one of the most sought dermatology clinics in New York.
Address: 37 Union Square W floor 4, New York, NY 10003
Phone: (212) 433-3344
Open Hours: Mon – Thu (9:30am – 6pm), Fri (9:30am – 5pm), Sat & Sun (Closed)
Website: http://centeraesthetic.com/
Google Rating: 5.0
7. City Derm NYC: Catherine Ding, MD
Patients immediately notice the pleasure taken in delivering professional, advanced dermatological treatments in a friendly and contemporary facility at City Derm NYC, the office of Catherine Ding, MD, FAAD, situated at 99 Lafayette St, New York, NY 10013. The mission statement of City Derm NYC tells it all. Dr. Ding and her team are dedicated to the following goals:
a) Providing a thorough consultation and a thorough explanation of the many problems and treatment choices accessible.
b) Recognizing each person's individuality and developing personalized treatment strategies.
Always acting in a morally upright manner. Ding and her staff at City Derm NYC follow their mission statement by providing information and working with patients to determine the best methods to enhance and maintain their health and design a comprehensive skincare program that guarantees the greatest outcomes for your skin condition at affordable cost.
Address: 99 Lafayette St, New York, NY 10013
Phone: (212) 226-6866
Open Hours: Tue – Fri (10am – 6pm), Sat (10am – 4pm), Sun & Mon (Closed)
Website: https://www.citydermnyc.com/
Google Rating: 4.9
8. Manhattan Dermatology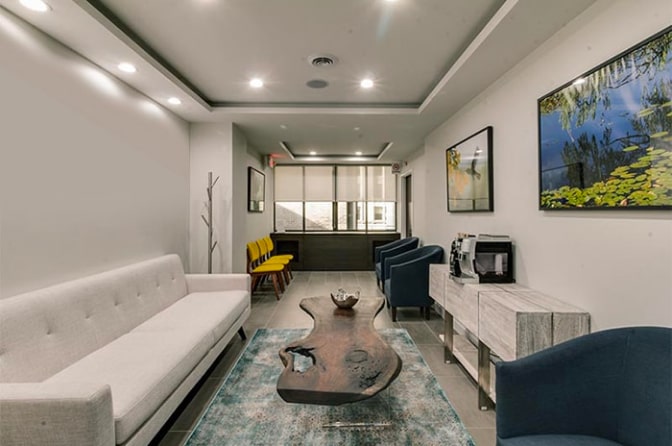 Manhattan Dermatology is a state-of-the-art skin care facility home to some of New York City's top board-certified dermatologists. The dermatology staff here conducts thorough skin examinations and monitors patients for skin cancer, mole abnormalities, and discoloration. Moles and skin cancers may even be removed directly in the office, including Mohs micrographic surgery.
In this best dermatology clinic situated at 71 Park Ave #1a, New York, NY 10016, they also provide the most up-to-date and cutting-edge therapies for chronic skin diseases. Patients may anticipate high-quality skin health treatment from dermatologists, who have significant expertise in all areas of skincare and are even dermatology professors at New York University. They are looking forward to developing long-term connections with patients and their families.
Address: 71 Park Ave #1a, New York, NY 10016
Phone: (212) 689-9587
Open Hours: Mon – Wed & Fri (8:30am – 5pm), Thu (8:30am – 6:30pm), Sat & Sun (Closed)
Website: https://www.dermatologistnewyork.org/
Google Rating: 4.9