Milk is used in everything from fluffy pancakes to velvety sauces. Traditional milk, however, may be unsuitable for persons who are lactose intolerant or who have dairy allergies.
Thanks to the development of lactose-free milk, those who experience digestive distress when consuming dairy products can now still benefit from its flavor and functioning.
But can lactose-free milk be used in place of ordinary milk in recipes and still yield the same results? This article is a journey into the world of lactose-free milk, its makeup, and its uses in the kitchen.
Understanding Lactose-Free Milk
Lactose-free milk is simply regular cow's milk that has had the lactose sugar removed or broken down. Milk contains a sugar called lactose, which can give some people gas, bloating, and diarrhea if they are sensitive to it.
Manufacturers use a variety of techniques to lower the lactose level of milk, making it more digestible for persons with lactose intolerance. The most typical approaches are:
Enzymatic treatment: The lactase enzyme is introduced to milk so that the lactose can be pre-digested before it is consumed. The digestive system of the human body works in a manner analogous to this.
Ultra-pasteurization: Ultra-pasteurization, in which the milk is heated to a higher temperature for a shorter period, is commonly used to produce lactose-free milk. This process also increases the milk's shelf life.
Filtration: Some lactose-free milk products have the lactose molecules physically separated from the rest of the milk components by a filtration process.
Now that we understand how lactose-free milk is produced, let's delve into its culinary potential.
Cooking with Lactose-Free Milk
In the kitchen, lactose-free milk can be used interchangeably with ordinary milk. Some typical uses of lactose-free milk in the kitchen are listed below: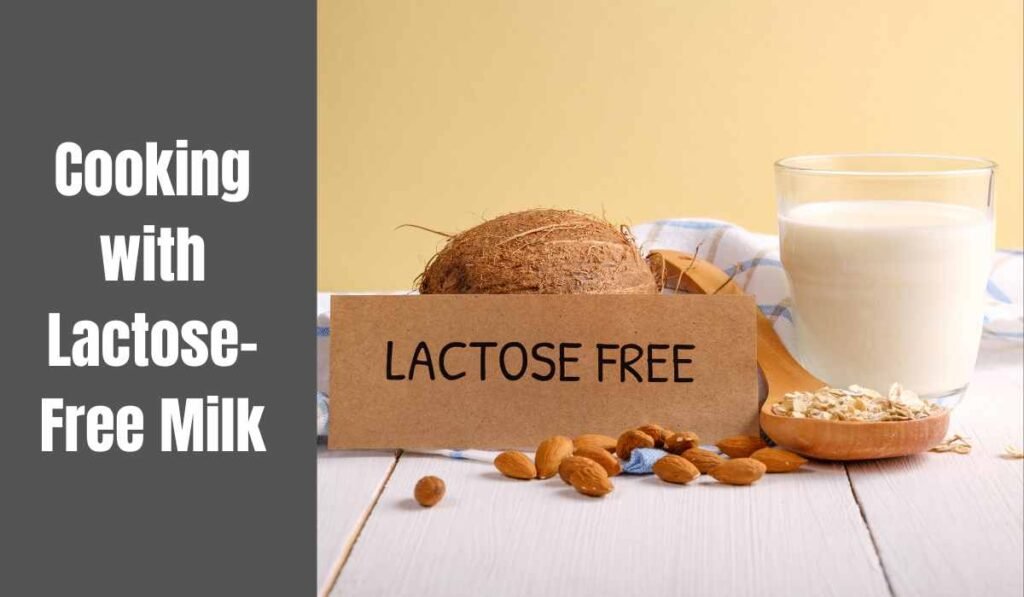 Creamy Soups and Sauces: Lactose-free milk can be used to create rich and creamy soups and sauces, such as clam chowder, Alfredo sauce, or potato leek soup. Its neutral flavor allows it to blend seamlessly with other ingredients.
Mashed Potatoes: Lactose-free milk can be added to mashed potatoes to achieve a smooth and creamy consistency. It works well with butter substitutes like margarine or olive oil for a lactose-free twist on this classic side dish.
Baked Casseroles: Whether you're making a cheesy lasagna or a broccoli casserole, lactose-free milk can be used to achieve the desired creamy texture without compromising on taste.
Scrambled Eggs: Lactose-free milk can be added to scrambled eggs to make them fluffier and creamier. This is especially useful for individuals who want to enjoy dairy-free breakfast options.
Oatmeal and Cereal: Lactose-free milk can be poured over oatmeal or cereal just like regular milk. It adds a creamy texture and can be flavored with sweeteners or fruits.
Gravies: Lactose-free milk can be used as a base for making gravies to accompany dishes like roasted meats or poultry.
The enzymatic breakdown of lactose gives lactose-free milk a slightly sweeter flavor, but the difference is usually undetectable in most recipes.
Related: Does Lactose-Free Milk Have the Same Nutritional Value as Regular Milk?
Baking with Lactose-Free Milk
Lactose-free milk is a great substitute for regular milk for baking. It works well in a variety of breads, muffins, cookies, and other baked items. Incorporating lactose-free milk into baked goods can be done in the following ways:
Cakes and Cupcakes: Lactose-free milk can replace regular milk in cake and cupcake recipes without compromising the moisture and texture of the final product. The enzymatic treatment can even enhance the flavor of some cakes.
Pancakes and Waffles: If you're making a batch of pancakes or waffles, lactose-free milk can be used in the batter for a dairy-free breakfast treat.
Cookies: Cookie recipes often call for milk to adjust the dough's consistency. Lactose-free milk can serve this purpose without altering the taste or texture of the cookies.
Breads and Rolls: Lactose-free milk can be used in bread recipes to create soft and tender bread or rolls. It may even enhance the bread's overall flavor.
Muffins and Scones: Whether you're baking blueberry muffins or cranberry scones, lactose-free milk can be a suitable substitution for traditional milk.
Puddings and Custards: Lactose-free milk can be used to make creamy desserts like rice pudding or custard. Its natural sweetness can enhance the flavor of these treats.
In most recipes, lactose-free milk can be substituted for ordinary milk with no noticeable difference in texture or taste. Even in dessert recipes, where a little of sweetness can improve the overall flavor, the slightly sweeter taste of lactose-free milk can be a benefit.
Related: Benefits of Lactose-Free Milk
Tips for Cooking and Baking with Lactose-Free Milk
Here are some things to keep in mind while cooking using lactose-free milk:
Adjustments for Sweetness: Keep in mind that lactose-free milk can be slightly sweeter than regular milk due to the enzymatic breakdown of lactose. You may need to adjust the amount of sugar or sweeteners in your recipes accordingly.
Temperature Matters: When incorporating lactose-free milk into hot dishes or sauces, add it gradually to prevent curdling. Let it come to room temperature before using it in baking for more consistent results.
Full-Fat vs. Low-Fat: Lactose-free milk is available in various fat levels, including whole, 2%, and skim. Choose the one that best suits your recipe. Full-fat lactose-free milk will provide a richer, creamier texture.
Experiment: Don't be afraid to experiment with lactose-free milk in your favorite recipes. You may discover new flavor profiles or texture improvements that you enjoy.
Label Reading: Always check product labels to ensure the lactose-free milk you're using is certified lactose-free and does not contain any added ingredients that may affect your recipe.
The Bottom Line
Lactose-free milk has many uses in the kitchen and is a great addition to baked goods. Those who suffer from lactose intolerance or dairy allergies now have a way to enjoy the flavor and nutritional benefits of milk in their food without the accompanying stomach distress.
Lactose-free milk can be substituted for regular milk in any recipe, whether you're making a rich sauce, a batch of cookies, or a dairy-free dessert.
You may successfully replace ordinary milk with lactose-free milk in many recipes with only minor tweaks and some experimenting, allowing you to fully enjoy the pleasures of cooking and baking without sacrificing taste or texture.
If you're looking to broaden your culinary horizons, consider picking up a container of lactose-free milk the next time you shop.