If you want to find top-rated veterinary clinic in Dallas or at any locations across the U.SA then find through zip code or city by visiting this page.
1. Hillside Veterinary Clinic Dallas
Hillside Vet Center is a full-service large veterinary clinic in Dallas, TX with a variety of services and treatments. Its entire staff is committed to providing quality veterinary care to your pet for the duration of their life, as well as excellent customer pleasure to you, the pet owner.
Their complete team of specialists is committed to providing preventative treatment to prevent disease and early identification and diagnosis. Not only do their veterinarians and staff seek to provide excellent medical advice, but they also strive to educate animals.
Hillside Veterinary Clinic recognizes the vital role your pet plays in your family's life, and the team of veterinarians of this Dallas based clinic are committed to becoming your healthcare partner. Not only do they treat your pet when they are sick, but they also teach you how to maintain your best companion healthily and happy.
They treat your pet as if it were their own when you entrust them with their care. Their healthcare professionals will pay close attention to the specific issues of each patient and customer they serve.
Website: https://www.hillsidevetclinic.org
Address: 6150 E Mockingbird Ln Suite 201, Dallas, TX 75214 (Get Direction)
Phone: (214) 824-0397
Working Hours: 24 Hours
Services: Low Cost Vaccinations, Emergency Services, Dental Health, Anesthetic Dentals, Non, Anesthestic Dentals, Participate In Drug Research, Veterinary Blood Bank, Online Pharmacy Services, Exams & Vaccinations, Senior Annual Wellness, Surgery, Laboratory, Health & Pet Wellness, Microchips
Reviews
Dr. Husky took great care of my baby boy, an English Bulldog, on many occasions. I trust her and the staff at Hillside. Everyone was always courteous and willing to help out when I first adopted my dog and he was nearly uncontrollable. I would recommend anyone and everyone to go to Hillside.
I went there for the low cost vaccination clinic. Great staff, long wait. Vaccination package price was very good but flea & heartworm preventative more than doubled the cost. Hey, they have to make a buck somehow, right?
Great service. They took care of my cat, even if it is not the news I wanted to hear. Dr Dupree took his time to answer my questions. He called me back to answer a follow-up question. My one star off is because of prices. I like the service but the prices are pretty high
2. East Dallas Veterinary Clinic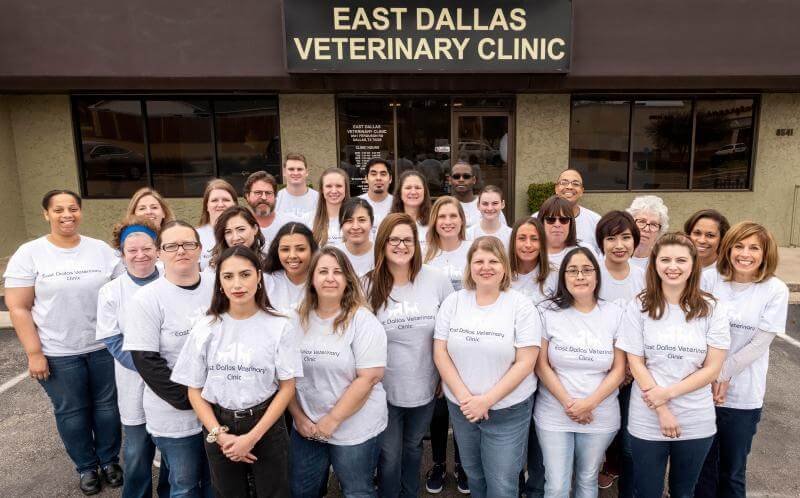 East Dallas Veterinary clinic is located southwest of the intersection of Ferguson and Lakeland Roads. They've been in business for a long time and have cutting-edge facilities for diagnosing and treating their patients, as well as providing boarding and grooming services for their dogs.
They are happy to show their clients around its Clinic facilities anytime you come in, and they urge owners to come in when their pets need to be in the hospital for an extended period.
When looking for a veterinarian clinicin Dallas, they believe you should look for one that provides both high-quality care and excellent service. Their goal has been to put together a veterinarian health care team dedicated to providing outstanding client service and veterinary health care. Their promise to you is to continue to provide world-class service and a cutting-edge veterinary facility in Dallas city.
Website: https://www.eastdallasvetclinic.com/
Address: 8541 Ferguson Rd, Dallas, TX 75228 (Get Direction)
Phone: (214) 328-9935
Working Hours: Mon & Thu (7:30 am – 8 pm), Tue, Wed & Fri (7:30 am – 6 pm), Sat (8 am – 2 pm), Sun (Closed)
Services: Cat Services, Kitten Care, Senior Cat Care, Cat Acupuncture, Cat Anesthesia, Cat Cancer, Cat Declawing, Cat Dental, Cat Dermatology, Cat Diagnostic Imaging, Cat Fleas & Ticks, Cat Grooming, Cat Heartworms, Cat House Calls, Cat Lab Tests, Cat Medications, Cat Microchipping, Cat Nutrition, Cat Preventive Care, Cat Spaying & Neutering, Cat Surgery, Cat Vaccinations, Cat Wellness Exams, Dog Services, Puppy Care, Senior Dog Care, Dog Acupuncture, Dog Allergies, Dog Behavior, Dog Cancer, Dog Dental, Dog Deworming, Dog, Diagnostic Imaging, Dog Fleas & Ticks, Dog Heartworms, Dog Lab Tests, Dog Microchipping,, Dog Nutrition, Dog Preventive Care, Dog Spaying & Neutering, Dog Surgery, Dog Vaccinations, General Services, Boarding and Pet Sitting, Dentistry, Digital Radiology, Pain Management, Emergency Veterinary Care.
Reviews
I wouldn't change a thing. I've been with you guys for almost a decade. I moved out of town 6 years ago and still come to EDV. I couldn't imagine trusting anywhere else. I'm loving the Pet Desk app and that it was pre-populated with my babies' info. Highly recommended!
I really loved this clinic, the staff, especially the veterinarian Virginia B. Ellsworth is very good, I loved the way of how she explained the diagnostic of my baby Tatiana. Surely come back for future check-ups of my pets.
Very nice staff. They helped me scan the lost pup I found for its chip. Unfortunately, the puppy didn't have a chip, but the staff was informative and let me know about Parvus being rampant in pups currently and about the recommended vaccination schedule. They were super nice and informative.
3. CityVet – Oak Lawn
In the Oak Lawn neighbourhood of Dallas, Texas, founder Chip Cannon, DVM, launched the first City Veterinary Center. They aimed to deliver a good pet care experience for customers by offering the best possible combination of quality care, convenience, and service while remaining affordable and accessible.
Chip believed that his CityVet concept would create the most robust client relationship and provide the best possible treatment. It has to work, right? This clinic is run and owned by veterinarians, not by a large business. Doing what is best for pets and their owners will always be their top goal. They all know that happy, healthy pets have longer lives. That is why their goal is to assist you in providing the finest possible care for your pet.
Website: https://www.cityvet.com/cityvet/oak-lawn/
Address: 2727 Oak Lawn Ave, Dallas, TX 75219 (Get Direction)
Phone: (214) 219-2838
Working Hours: Mon – Fri (7 am – 7 pm), Sat (8 am – 2 pm), Sun (Closed)
Services: Vet Care Services, Wellness Care, Pharmacy, Boarding/Dayplay,
Reviews
Very grateful for Dr Effie and her kindness in working our urgent situation into her schedule! She and all the staff were so kind and helpful. We had never been there before but quickly knew we were in great hands. Thanks to all of you for making our experience a positive one!
Very professional, very thorough and answered any questions I had! I didn't feel rushed and it didn't seem like I annoyed them when I had a bunch of questions being a new dog mom. I really appreciate everything y'all did for me and my baby!
Very helpful team. If you are ever nervous about bringing your baby to a vet clinic then consider CityVet. Your baby will be in good hands. They are upfront on the price. They tell you what they recommend and work with you on times and schedules. Thank you for helping me today with my sweetheart Mia. Super professional. Thank you!
4. Abrams Forest Veterinary Clinic Dallas

The lovely big square foot, contemporary facility in the Lake Highlands neighbourhood, just fifteen minutes from Hillside, provides medical and surgical treatments exclusively for cats and dogs.
Hillside Veterinary Clinic's decision to expand and spin-off a canine and feline practice were released in the 2004 construction of the Abrams Forest Veterinary Clinic. With an ever-increasing patient base but no room to grow at their Mockingbird Lane, Dallas location.
Dr. renowned veterinarian from Hillside and her carefully selected team of animal experts began providing high-quality veterinary medicine, compassionate animal care, and a commitment to superior customer service and client satisfaction.
Website: https://abramsforestvetclinic.com/
Address: 9605 Abrams Rd, Dallas, TX 75243 (Get Direction)
Phone: (214) 553-8033
Working Hours: Mon – Fri (7 am – 7 pm), Sat (8 am – 3 pm), Sun (Closed)
Services: Examinations, Vaccine & Wellness Packages, Senior Annual Wellness, Dentistry, Dental X-Rays, Surgery, Diagnostic Testing, Online Pharmacy, Micro-Chipping, DNA Testing, Participate in Drug Research.
Reviews
We absolutely love this vet and so does our pup. Dr. Stowe is incredible and we are so grateful for her! Wonderful people and wonderful facility. We have taken our dog here ever since we got her as a puppy almost three years ago. They have taken such good care of her even through 2 surgeries. Our dog gets so excited when we drive up. 😊
Great vet visit today! We had to wait in our car until called upon which wasn't bad for corona precautions!:) We finally got results that my Pitt didn't have ring worms, it was just her skin allergies. What a relief! Thank you!
Dr. Stowe and all the staff are so awesome. They take such great care of my fur baby. Their social distancing protocols are great. I feel safe going taking my pet there. Always make an appointment, they are worth the small wait
5. Rutherford Veterinary Hospital
Dr. Frank E. Rutherford died on July 1, 1932, leaving his widow, Nell Rutherford, in charge of the hospital. Charles Steeger (Dr. Rutherford's son-in-law), working as a technician, attended Texas A&M College of Veterinary Medicine shortly after Rutherford's death. In 1936, Dr. graduated from veterinary school and bought the clinic.
The building and property, however, remained in Nell Rutherford's possession. Dr Steeger had various collaborators throughout the years, but he remained the clinic's sole proprietor until the mid-1950s, when Dr James Earl Nash, who had joined the practice in 1945, became a partner. Draeger became fully independent after Nell Rutherford died in 1975.
Website: https://rutherfordvet.com/
Address: 924 S Haskell Ave, Dallas, TX 75223 (Get Direction)
Phone: (214) 826-4166
Working Hours: Tue – Fri (7 am – 6 pm), Sat (7 am – 2 pm), Sun (8 am – 2 pm), Mon (7 am – 8 pm)
Services: Wellness ExamsV, accinations, Sick Pet Care, Pet Dental Care, Surgical Services, Spay and Neuter, Diagnostic & Lab Services, Acupuncture, Cold Laser Therapy, Telemedicine, Boarding & Daycare
Reviews
Wanted to try out a new vet clinic and I'm glad I found Rutherford. Dr. Young was extremely kind, caring, helpful and most importantly, transparent. Highly recommend for quality, affordable, honest pet care.
I love Rutherford Hospital..they have a passion for animals. Very caring staff..the doctors themselves call to check on my pets. They are the best! I'll never take my animals to any other place.
This was my pet's first visit here and he did really well. The staff was attentive and cared about his health. The customer service was great too. I will be a repeat customer. ❤💯🙂
6. Metro Paws Animal Hospital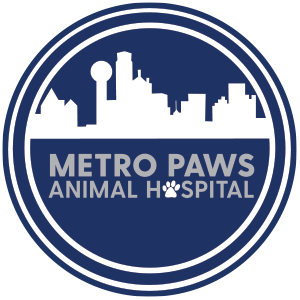 Drs. Sarpong founded Metro Paws Animal Hospital a long time to provide Dallas residents with personalized veterinary care for their dogs and cats. Metro Paws Animal Hospital is a joint venture between three Dallas-area veterinary facilities.
In addition to wellness care and immunizations, their full-service centres include boarding, dermatology, radiography, surgery, dentistry, reproductive, and heartworm treatment for dogs and cats.
The Metro Paws Skillman site serves Central Dallas, M Streets, Junius Heights, Swiss Avenue, Munger Place, West Lakewood, and Vickery Park.
Website: https://dallasmetropaws.com/
Address: 1021 Fort Worth Ave, Dallas, TX 75208 (Get Direction)
Phone: (214) 939-1600
Working Hours: Mon – Fri (8 am – 6 pm), Sat (8 am – 2 pm), Sun (12 – 5 pm)
Services: Wellness Care, Immunizations, Boarding, Health Certificates, Electrocardiology (EKG) / Blood Pressure / Pulse Oximetry, Dermatology, Cold Laser Therapy (Oak Cliff Only), Radiology, Ultrasonography, Echocardiograms, Surgery (Soft-Tissue, General, and Orthopedic)
Cytology and Oncology, Dental Care, Senior Wellness Exams, Emergency, Critical Care and Fluid Therapy, Reproduction, Microchipping, In-House Laboratory, Heartworm Treatment, Grief Counseling, Online Pharmacy.
Reviews
The staff were all friendly. I was worried about leaving him all day never had to go through a situation like this before. I liked how the dr called me throughout the day to keep me updated on my furbaby! she gave me some peace! My baby isn't out of the woods yet but thanks to this clinic he is a bit better.
Dr. Donaldson is by far the best veterinarian we have visited. She is so great with our dog who is highly anxious and is always very patient and attentive to our concerns and needs. Highly recommend!
There are not enough words to express how wonderful Dr. Donaldson is as a veterinarian. She is one of the most knowledgeable, friendly and most importantly, compassionate people I have had the pleasure of meeting. If you need the absolute best care for your pets, Metro Paws is the place to go!
7. Midway Hollow Pet Clinic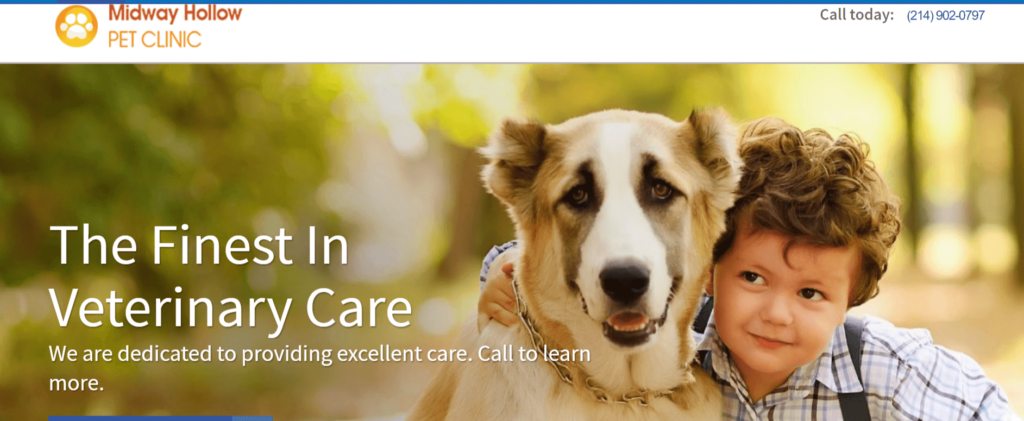 Midway Hollow Pet Veterinary Clinic would like to extend a warm welcome to their clinic to you, your family, and your particular family member in Dallas . They hope that as you continue to browse and explore their website, you will gain a better understanding of their commitment to your family and the high-quality veterinary medication and service they provide.
Midway Hollow Pet Clinic's mission has always been to build a veterinary healthcare team dedicated to offering excellent client service and veterinary health care. Through ongoing education, technology breakthroughs in veterinary medicine and service, and most importantly, ad hoc service, the Midway Hollow Pet Clinic team demonstrates an unequalled commitment to their clients.
Website: https://midwayhollowpetclinic.com/
Address: 3780 W Northwest Hwy, Dallas, TX 75220 (Get Direction)
Phone: (214) 902-0797
Working Hours: Mon – Fri (8 am – 5:30 pm), Sat (8 am – 12 pm), Sun (Closed)
Reviews
The best veterinary clinic in Dallas city I have ever used. They are professional, caring, never price gouging, fast appointment schedule. Dr Carrol is the best in town. Everyone says that.
Dr. Carroll is wonderful and the prices are quite reasonable. They will never try to talk you into unnecessary procedures or costs. I've even been talked out of running some requested tests since they said they were not needed, saving me several hundred dollars.
This place is amazing! They truly care about your fur baby and provide exceptional care and counsel. They've extended the life of my 16 1/2 year old Australian Shepherd by at least 2 years.
8. Cornerstone Animal Clinic

Dr. Jennifer Fry of Cornerstone Animal Hospital in Wichita is one of the best veterinarians in the area and is dedicated to your pet's health and happiness. Cornerstone Animal Hospital is a leader in both pet care and veterinary medicine.
Dr. at Cornerstone Animal Hospital has provided compassionate veterinary care and pet services to Wichita and the neighbouring towns for over twenty years, making it the animal hospital of choice for pet owners in and around the Wichita area.
Website: https://cornerstoneanimalclinic.com/
Address: 11909 Preston Rd #1456, Dallas, TX 75230 (Get Direction)
Phone: (972) 385-3555
Working Hours: Mon – Fri (7:30 am – 5:30 pm), Sat (9 am – 12 pm), Sun (Closed)
Services: Pet Boarding, Cat & Dog Clinic, Comprehensive Pet Dentistry, Diagnostic Testing, Digital Radiology, Laser Therapy, Vaccinations/Wellness
Reviews
I love the vets and staff at Cornerstone! They bend over backwards to care for my two dogs. They have helpful advice and referrals if one of them (or me!) needs a trainer. We use all the services – vet care, doggy day care and grooming. I can't say enough good things about them.
Use Cornerstone for grooming my sweet Morkie. They do a fabulous job. She goes in looking like a dirty lamb and comes out looking great! They are kind and pretty quick. Front desk is always friendly and efficient. Love this place!
I bring my dogs here for grooming and this place is great. Pricing is competitive, although not the least expensive. The few extra dollars per dog is worth it for the quality care they receive. My dog never sits all day waiting to be groomed and the groomers listen to my requests. The groomers and office staff are all very friendly.
Final words
They all vets clinic provide a variety of services and treatments to your pets. They are highly experienced veterinarians. So you can rely on one of them for the best treatment for your pet in Dallas, TX.