Mild to severe cases of lower back pain impact millions of individuals every year. There are several potential causes, such as improper body alignment, muscular tension, injury, or preexisting disorders. The quality of sleep may play a key role in treating and reducing suffering from lower back pain, in addition to medicine, physical therapy, and exercise.
Lower back discomfort may be alleviated and sleep quality improved with the help of devices developed for that purpose. In this piece, we'll look at some of the top sleep accessories that might assist those with lower back discomfort to get some shut-eye.
1. Orthopedic Mattress

The spine is supported and aligned in the best possible manner by an orthopedic mattress. These mattresses are made with materials like memory foam or latex that shape to your body's unique shape to provide pressure point relief and lumbar support. People who suffer from lower back discomfort should go for a mattress that is either medium-firm or firm.
2. Lumbar Support Pillows
Those who suffer from lower back discomfort might benefit greatly from investing in a lumbar support cushion. These pillows are designed to conform to the shape of a sleeping person's lower back, preventing spinal misalignment. While laying down, they may be positioned behind the lower back to provide focused support and relieve muscular tension.
3. Body Pillows
A body pillow is a long, cylindrical cushion that may be used in a variety of sleeping positions, including cuddling or tucking between the legs. Those who like to sleep on their sides may find that these pillows are ideal. One of the most pleasant sleeping positions is with a body pillow between the knees because it helps align the spine, pelvis, and hips, relieving strain on the lower back.
4. Adjustable Bed Frames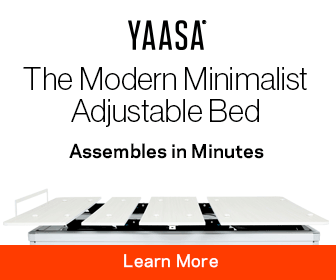 Beds with adjustable frames let you discover your ideal resting position by lifting either your upper body or your legs. Relieving pain and pressure in the lower back is as simple as changing the bed's angle. Furthermore, adjustable bed frames give additional comfort by conforming to the unique needs of each user.
5. Heating Pads
One common technique for alleviating lower back pain is to apply heat to the painful region. A heating pad is a practical addition to your bed since it can provide targeted heat treatment while you snooze. They improve circulation, loosen tight muscles, and lessen discomfort, making for a more restful night's sleep. If you're shopping for a heating pad, make sure it has temperature control and an auto-off option.
6. Mattress Toppers
When looking for ways to increase the comfort and support of their current mattress, many people turn to mattress toppers. Mattress toppers made from memory foam or latex are your best bet for lower back support because of their responsiveness to body contouring and pressure alleviation. They may breathe new life into an aging mattress or provide an additional layer of padding for individuals who want to sleep on a softer surface.
7. Sleep Posture Correctors
Proper spinal alignment during sleep may be trained with the use of sleep posture correctors such as customized pillows or wearable gadgets. Over time, greater sleep and less lower-back pain might be the result of using these gadgets, which subtly nudge the user into healthier sleeping postures.
8. Adjustable Lumbar Supports
An adjustable lumbar support device might be helpful for those who spend long periods of time seated. These aids may be fastened to seats or belts, making them accessible in a variety of settings. They provide specific assistance to the lower back, leading to improved posture and lessening the likelihood of lower back discomfort.
9. Contoured Sleep Masks
Even while they don't do much to alleviate lower back discomfort, tailored sleep masks may help you get a better night's rest overall. These masks have a contoured form that spares the eyes from any unnecessary strain.
In addition, the mild compression around the eyes may assist ease stress and tension in the face. Indirectly, contoured sleep masks may aid in improved sleep and pain reduction by increasing relaxation.
10. Memory Foam Mattress Pads
Memory foam mattress pads, like mattress toppers, provide an additional layer of comfort and support for your bed. The memory foam in these cushions adapts to the form of the user's body to relieve stress in the lumbar region.
Memory foam mattress pads are great for reducing back discomfort and boosting the quality of your sleep because of the extra comfort and support they provide.
11. Sleep Positioners
Sleep positioners are ergonomic tools that aid in healthy supine sleeping posture. Cushions or wedges may be carefully positioned beneath the knees or in between the legs to alleviate pressure on the lower back.
Those who sleep on their backs or bellies might benefit greatly from sleep positioners since they encourage healthier spinal alignment.
12. Adjustable Lumbar Roll
Whether you're sitting or laying down, you may benefit from using a tiny, adjustable lumbar roll cushion or pillow behind your lower back. It aids in maintaining the spine's normal curvature by providing supplemental support where it's needed most.
Mobile and adaptable, an adjustable lumbar roll may be utilized everywhere from a vehicle seat to a desk chair to your bed. They are a practical addition to a bed for those who need constant lumbar support.
13. Sleep Sound Machines
White noise, natural noises, and tranquil tunes are just some of the types of sounds that sleep sound generators may play. These devices may be used to cover up ambient noise, making it easier to go asleep and stay asleep.
By encouraging a good night's sleep, sleep sound machines may indirectly help alleviate lower back discomfort and improve overall sleep quality.
14. Weighted Blankets
Because of their reassuring impact, weighted blankets have become more popular. Small glass or plastic beads are equally dispersed throughout one of these blankets. A weighted blanket's mild pressure has been shown to aid in the relaxing and alleviation of lower back muscular tension.
Improved sleep quality and less discomfort are two additional benefits of increased serotonin and dopamine release.
15. Sleep Mattress Wedges
Wedge-shaped cushions designed for use beneath a bed to prop up the upper torso or the legs are known as "sleep mattress wedges." These wedges are useful for alleviating symptoms of acid reflux and other respiratory disorders by raising the upper body off the bed.
Leg edema and pain may be reduced by elevating the legs to increase blood flow.
16. Sleep Tracking Devices
Wearable fitness trackers or smartphone applications that monitor your sleep might reveal trends that may be related to your lower back discomfort. The length, activity, and even phases of sleep are all tracked by these gadgets.
Data analysis may help you learn how various sleeping positions or behaviors affect your lower back discomfort, so you can modify your routine accordingly.
17. Adjustable Neck Pillows
Adjustable neck pillows are designed to support the neck, but they also have a beneficial side effect on the lower back. These pillows are designed to help keep your head, neck, and shoulders in the right positions, which in turn reduces pressure on your lower back.
Adjustable neck pillows aid in better spinal posture and pain relief by keeping the head, neck, and shoulders in a neutral position when sleeping.
18. Cooling Pillows or Mattress Toppers
Lower back discomfort caused by heat or inflammation often responds well to cooling pillows or mattress toppers. These add-ons are made from vented fabrics or injected with cooling gel to help keep you at a comfortable temperature while you sleep.
Cooling pillows and mattress toppers may help relieve pain and improve sleep quality by lowering the heat and creating a pleasant feeling.