This yoga poses for two people may be challenging at times, but they are ideal for individuals who are only beginning their yoga practice. Always be aware of how you are breathing as well as how the rest of your body feels, and try to steer clear of activities that give you discomfort. In addition, don't forget to connect with your companion when you're laughing and having fun with the game.
1. Couples' Yoga Positions Based on a Double Tree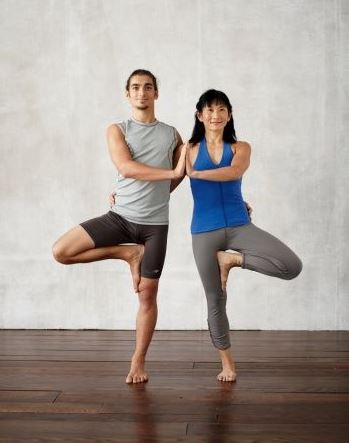 Photo: Pinterest
The double tree pose is one of the easier yoga poses for two people that can help you and your partner improve your balance and more evenly distribute your weight across your bodies.
Couples who hold the double tree posture may find it easier to open up to one another and build trust in one another. This yoga pose for two people is one of my favorites, and I think it will appeal to you as well.
How to Do:
While standing next to your partner, spice your hips 1 foot apart.
Palms up, and raise your hands.
Holding hands, your partner's outer hand should be pressed into your outside hand.
To avoid weight imbalance, apply the same palm pressure.
Next, place the inner feet on the ground as a tripod and lift the outside foot into a tree position with your partner.
2. Standing together, bend forward as a partner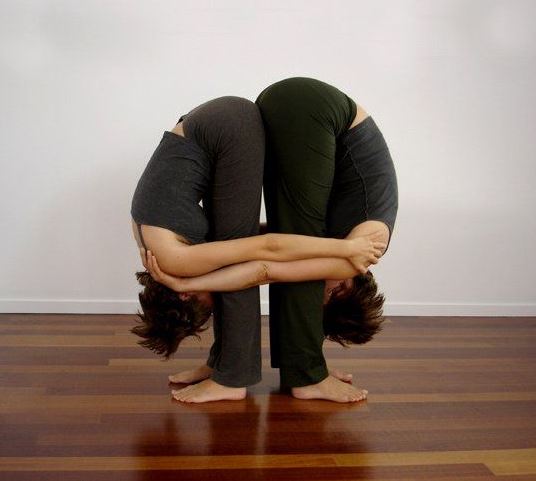 Photo: Pinterest
Because your partner will be firmly holding you in place, practicing your forward fold with the assistance of a partner is an excellent way to learn the pose without the risk of falling over because your partner will be helping you.
How to Do:
Stand straight with your feet shoulder-width apart.
Stand with your heels a foot apart.
Bend forward and reach behind your legs to hold your partner's shins.
3. Cross-Legged Boat Pose
Photo: Nuvanna
One of the best starting postures in yoga is called the double boat, which may be done by two individuals at the same time.
This yoga poses for two people doesn't require a lot of strength or effort because it doesn't place pressure on the hip flexors and it can be done with just about anyone.
How to Do:
Kneel with both feet flat on the mat and touch your partner's toes.
Hold hands.
With your hands still in place, lift your right foot off the floor and lean back as far as you can.
Please press the bottoms of your feet together.
Next, lift your second foot off the pad and push the soles together.
Engage your abs, straighten your spine, and sync your legs with your partner.
4. Chair and Mountain Yoga Positions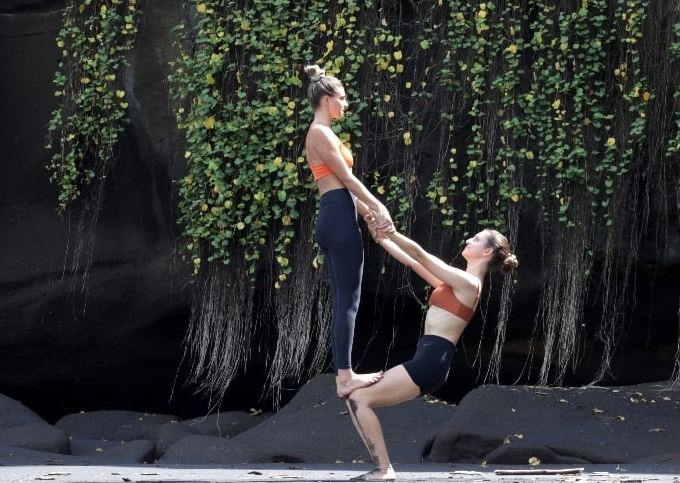 Photo: shapeminow.com | Pinterest
This is one of the easier yoga poses for two people to do together. It gives the person on the ground the opportunity to try out a new position, while the person in the air experiences an exhilarating intensification of their physical body. This gives the impression that their non-psychic state has improved.
How to Do:
In this posture, one partner sits in a chair while the other places one foot atop the other's thighs, above the knee.
If you want to do the foot on top of the thighs move, both partners should lean away from each other.
Then, as one partner stands up straight, the other begins to draw away.
5. Inverted Dog Pose with a Partner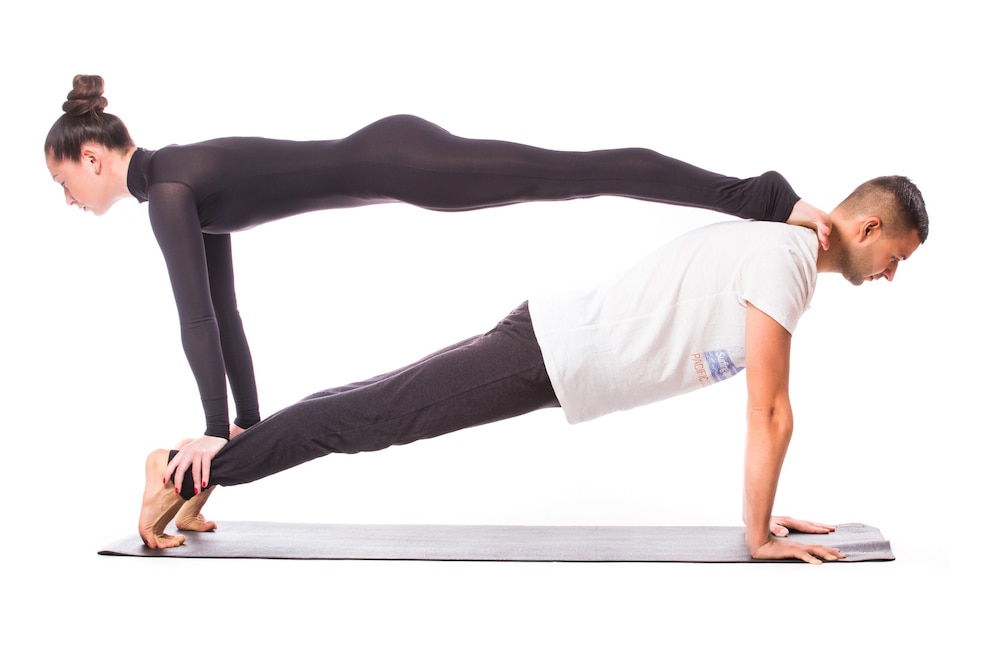 Photo: Freepik.com
The purpose of this basic yoga position for two people is to give your neck a rest by moving your shoulders further away from your ears. Your shoulders will be moved in this direction during the pose.
How to Do:
At the outset, one partner assumes the upward-facing dog position.
To pull the first partner into Upward Facing Dog, the second partner places their hands on their shoulders and steps back onto their ankles.
6. Couple in the Flying Warrior Pose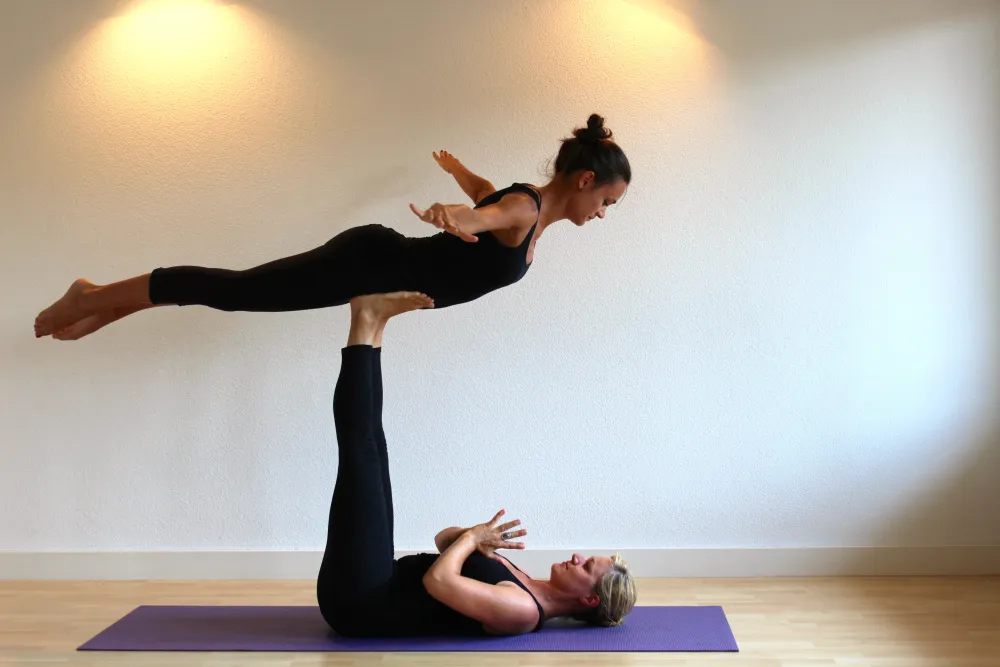 Photo: Eversports.ch
In the straightforward yoga posture known as the flying warrior, one participant assumes the "airplane" position while the other stands behind them. The ability to trust one another is essential to the development of a fruitful business partnership, and this helps to strengthen that relationship.
How To Do:
In this position, one partner lies on their back with their knees bent and legs extended toward the ceiling.
One partner should stand in front of the other, hands clasped, and adjust their stance so that their pelvis is parallel to the soles of their feet.
As they bend forward, the first partner's feet land on the second partner's hips.
Despite being the flyer, the second partner needs a firm center of gravity.
7. Yoga Pose with a Sustained Backbend
Photo: Yogajournal.com
When practicing supported backbend yoga poses for two people, it is possible to protect your lower back from injury by making use of various props. With the assistance of the supported backbend 2-person yoga poses for beginners, you'll be able to practice deeper backbends without risking injury.
How to Do:
Stand toe-to-toe.
Feel your lower back. Spread your feet to move easier. With a flexible back, you can stand with your feet together.
Take a firm grip on your partner's forearms.
Exhale when folding backward and inhale when extending upward.
8. The Boat Pose, or Wide-Legged Frog Pose
Photo: deccanchronicle.com
These yoga poses are designed for two people to do together. You and your partner can make an easy and encourage each other to relax their shoulders by holding each other's arms or hands as you do it.
How to Do:
Spread your knees and face your companion.
Toes should touch on the mat.
Grab your partner's hands inside their legs.
Lean back and elevate both feet off the floor to press your partner's soles.
Straddle using your abs.
9. The Yoga Double Dancer Pose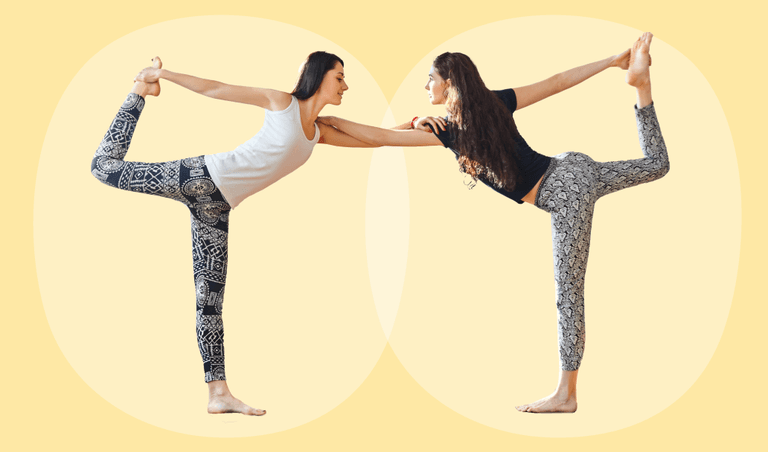 Photo: Unimeal.com
When holding the yoga pose known as the double dancer, one partner should support themselves by leaning on the other. This yoga pose is one of the easier ones to carry out between the ones that involve two people doing it together.
How to Do:
Start by standing closer together than the mat's width.
Dancer's Pose involves reaching for the ceiling with the front leg and arm while grabbing the back ankle.
Palms touching, cross your partner's front arm over yours.
10. Yogic Camel Pose with a Partner
Photo: Freepik.es
Yoga for two people in this simple pose is a great way to move toward the more challenging Forearm Bridge. Your partner's unconditional love and support mean you don't have to worry as much about the risk of self-injury when you express strong emotions.
How to Do:
With your backs to each other, start on your shins.
If your back is rigid, your partner must move closer to touch your feet.
Touching toes requires flexibility.
In Camel, the first partner leans backward and holds their partner's thighs instead of their ankles.
The second partner should reach out and grab Camel, laying the back of the head on the chest and allowing their palms to fall over the bent partner's hips.
11. One Legged Wheel Yoga Pose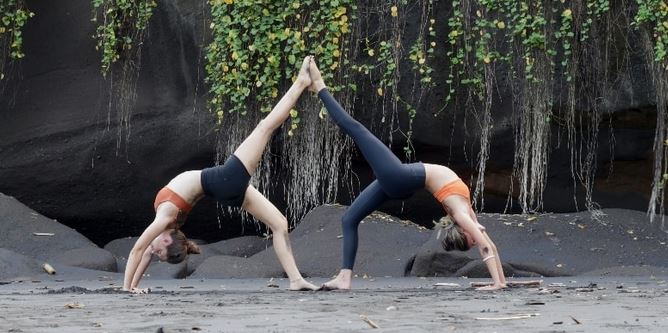 Photo: shapeminow.com
The one-legged wheel is a straightforward example of a yoga pose that may be carried out by more than one person at the same time. When you are practicing this yoga posture with a partner, you will find that it is much simpler than when you are practicing it by yourself because you will both be able to press into each other for support. When you are practicing it by yourself, you will find that it is much more difficult.
How to Do:
Assume the Wheel Pose with your partner, with your backs facing each other and your toes touching.
They should each lift one leg toward the sky and press the soles of their feet together.
12. Alternating Planks with a Partner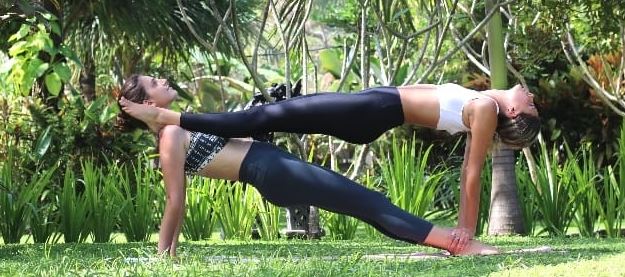 Photo: shapeminow.com
In the two people, yoga poses known as the double reverse plank, the base partner is required to hold more weight, while the flyer partner is responsible for maintaining more stability.
How to Do:
Reverse Plank for the first.
By placing their hands on their partner's ankles, the second partner takes the Reverse Tabletop posture.
To do the Floating Reverse Plank, one partner puts both feet on the other's shoulders.
13. Facing Hero Pose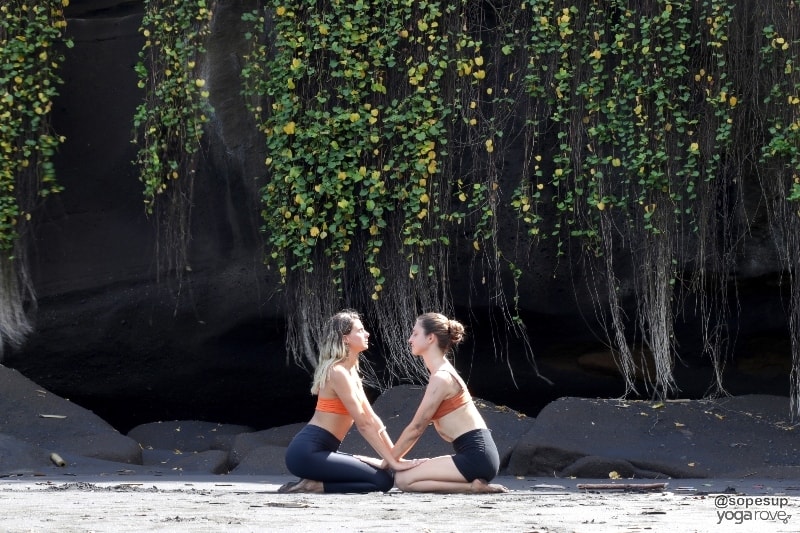 Photo: yogarove.com
This position is excellent for creating the framework for more advanced partner work, but it can also be practiced on its own as a potent technique to strengthen the connection you share with your partner. If you and your partner are ever engaged in a heated argument, you should most definitely give this a shot.
How to Do:
Hero Pose is achieved by touching your inner thighs with a partner.
As you stoop down and place your palms on each other's thighs, keep your backs straight.
While holding hands, press lightly onto each other's thighs so as not to strain your knees.
To strengthen your connection and closeness, you might sleep with your eyes closed or open.
Breathe together to match your breathing rhythm.
14. Seated Twist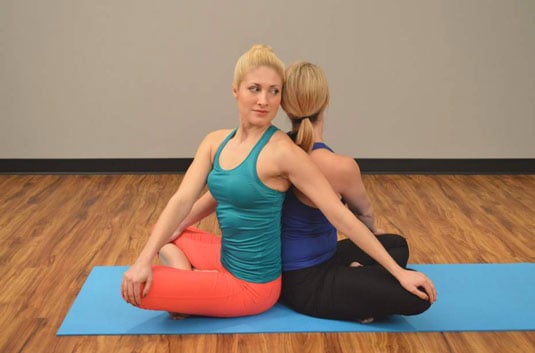 Photo: Dummies.com
When we are in a seated twisted position by ourselves, we have a tendency to slouch because there is nothing to press against; however, if you perform this exercise with your back to your partner, you may be able to keep your upright posture. Additionally, the twist is deeper and more meaningful than in a solo performance.
How to Do:
Start by relaxing with your backs touching but facing different directions.
Deep breathing elongates your body. Exhale and twist right from the spine using your abs. Your buddy should do the same.
Place your partner's right hand on their right knee and your left hand on your right knee. Your partner does it too.
If you and your companion are facing forward, gaze over your right shoulder at the same thing.
15. Standing Shoulder Stretch Yoga Pose
Photo: Pinterest.com
This stance is a modification of the puppy-dog pose that is easier on the shoulders and helps open up the chest.
How to Do:
Start by facing your spouse at arm's length. Spread your arms and touch your fingertips.
Hold your arms straight overhead. Turn your arms outward to face your palms.
Exhale and stoop forward. Put your hands on your partner's back while lying on your stomach at a 90-degree angle.
Move back if your foreheads are touching. If your crowns are more than 1 foot apart, move closer.
Put your palms together and gently press onto each other's backs to release your shoulders.
16. Supported Backbend
Photo: Lifehack.com
The benefits of backbends are frequently not realized because of a natural tendency to "crunch" the lower spine when the pose is not supported by props. A lack of strength or the fear of falling can prevent us from entering a deeper expression of backbends; with this support, you can relax into the pose and go deeper.
How to Do:
Start by touching your partner's toes. If your lower back is flexible, stand with your feet together.
Hold forearms.
To avoid a lower back crunch, inhale as you lift upward and exhale as you bend backward, envisioning your back bowing backward over a large beach ball.
If the backstretch isn't deep enough, bring your hands closer.
17. Backbend Stability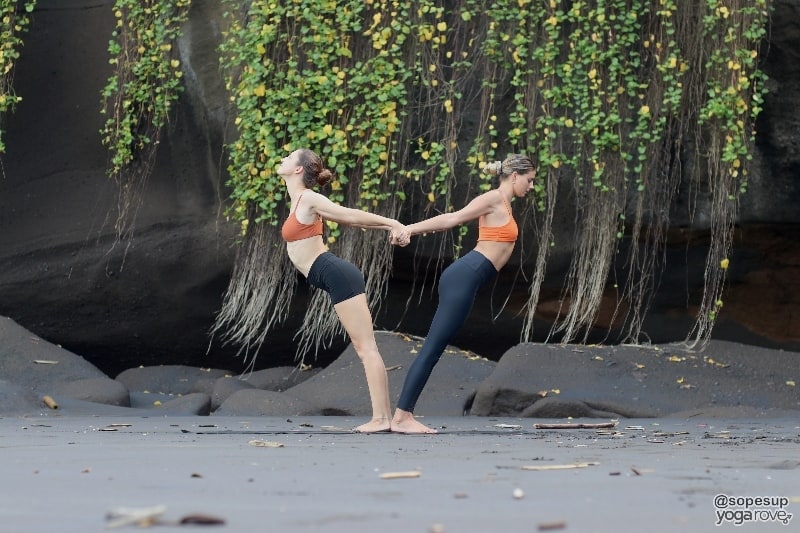 This backbend will help you increase the range of motion in your upper back while also gently opening your chest with the assistance of your partner. It will help open your throat chakra as well as your heart chakra, in addition to improving your ability to communicate and focus. One of the best yoga poses for two people
How to Do:
Start with your backs to each other, hip-width apart, and heels touching.
Grab your partner's hands with a forward-pointing inner elbow. Hold tight.
Lean forward to pull apart from your partner.
18. Wide-Legged Standing Forward Fold
I have no doubt that you are familiar with the amazing experience that comes with grasping opposing elbows while performing a standing forward fold. This is basically the same thing, but it's better because it stretches the hamstrings a little bit more than the other one does. In other words, it's basically the same thing.
How to Do:
Start by facing your partner from 2 feet away.
If you stand with your legs split out, your ankles will be in line with your wrists if your arms are parallel to the ground.
Lean over and let your head droop.
Grab your partner's bicep and pull. Never apply pressure on joints; hold above or below the shoulder or elbow.
Relax your shoulders and let your partner's hands support you as you go deeper into the pose. Goofy faces earn additional points.