Are you searching for the best dermatologist near me in San Antonio? The skin is a magnificent organ. It protects other organs, heats, cools a person, and transmits signals about how healthy one is on the inside, and it is the first line of defense against illness. Dermatologists are board-certified medical physicians and skin surgeons with the expertise and knowledge to provide the finest treatment for the organ that looks after people.
Dermatologists have considerable training, spending 12 years or more in school to learn how to diagnose and treat over 3,000 skin, hair, and nail disorders, as well as aesthetic issues. The job of a dermatologist is usually split into three categories. These are some of them:
Medical: A dermatologist can help you identify and treat skin problems. Plaque psoriasis, rosacea, and acne are examples of this. A dermatologist may also detect indications on your skin that may indicate the presence of other health problems. Itchy, dry skin, for example, may occasionally signal renal issues.
Surgery: Minor surgery such as removing moles or warts or the taking of skin samples is performed by many dermatologists. Other dermatologists will focus on more complex procedures. The removal of benign cysts or skin cancer is one of these treatments.
Cosmetic: A dermatologist can help you with skin problems that are affecting your look. Hair loss, dark patches, and wrinkles are examples of this. Many dermatologists are also qualified to do cosmetic procedures. Fillers, chemical peels, and laser hair removal are among them.
Also See: Find Best Dermatologist Near Me (Search By Zip Code)
We will now look into some of the best dermatologist in the city of San Antonio.
1. Dermatology San Antonio

Located at 16110 Via Shavano, San Antonio, TX 78249, this dermatology clinic is one of the bests in the city. Dermatology San Antonio has a team of dermatologist that specialize in medical, surgical, and cosmetic dermatology. The goal of this dermatology clinic is to offer the best quality dermatologic treatment in a caring, ethical, and professional way for the entire range of dermatologic diseases.
They also take part in clinical trials of already authorized medicines and clinical research studies of experimental treatments. This enables them to provide patients with the most cutting-edge therapies for various diseases such as psoriasis, acne, actinic keratosis, and onychomycosis.
Scene Magazine has recognized its dermatologists as S.A. Best Doctors and Texas Monthly Super Doctors and Rising Stars. They provide cosmetic dermatological treatments and treat a variety of skin problems.
Website & Appointment: https://www.dermsanantonio.com/contact
Address: 16110 Via Shavano, San Antonio, TX 78249
Phone: (210) 615-7171
Services: Cosmetic, Medical, and surgical dermatology.
Office hours: Monday-Friday 8:00 am to 5:00 pm
Reviews
I was very satisfied and happy with the results. Dr. Lee explained in detail my diagnosed and what needed to get it result. She didn't rush in and rushed out in minutes. She took her time with me making sure I understood everything. Definitely I'm staying with this doctor. Thank you Doctor Lee
I have been a patient of Dr. Tisdall since 2009 and she is the best! She is very kind, patient, attentive and knowledgeable. She takes her time in explaining her findings and my options. I highly recommend her to everyone. The staff is always pleasant and helpful. Keep up the good work. 🙂
Ms. Lee was her very friendly and thorough self. She really checks my northern European heritage skin for signs of sun damage from my growing up on the Texas Gulf coast. No new problems this time and no need to biopsy, thank Heavens. A very pleasant and enjoyable visit!
Dr. Stephen Miller is absolutely an outstanding Dermatologist!!! He is very professional and straight forward in diagnosing your problems and always has the perfect solution to resolve your issues. Highly recommend him for your dermatological needs.
Dr. McCarroll is a very conscientious physician. The support personnel is well trained and attentive. This week I showed up a day early for my appointment yet they gladly accommodated me. Great organization.
2. Sonterra Dermatology – Stone Oak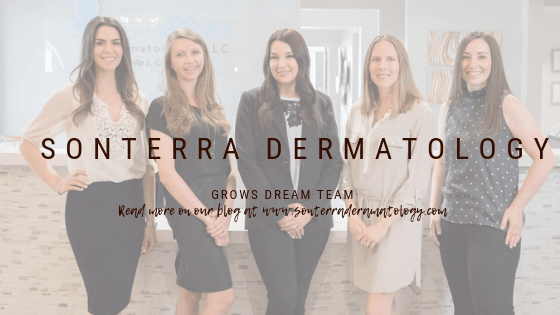 Sonterra Dermatology in San Antonio, a one-of-a-kind clinic that takes compassionate care and customized treatments to new heights. Dr. Garcia recognizes that each patient is unique and has unique requirements. Therefore she collaborates extensively with her patients to develop a treatment plan that will provide actual results.
Along with Dr. Garcia, her well-trained team ensures that patients have a positive experience. This best dermatology clinic utilizes sophisticated technology and experience to treat a broad range of problems, whether they are medical or cosmetic. Patients will be taken to a private consultation room when it is time to meet with our medical experts, where they will be evaluated and discuss their requirements and objectives.
Their on-site treatment facility is conveniently located and well-equipped to perform a variety of medical and cosmetic treatments. Regardless of why a patient comes to the clinic, their rigorous safety standards ensure that their well-being is a top concern.
Website & Appointment: https://dermatologysanantonio.com/schedule-appointment
Address: 314 E Sonterra Blvd STE 2201, San Antonio, TX 78258
Phone: (210) 981-3600
Services: General dermatology, Cosmetic treatments, Injectables & Skin Cancer treatments.
Office hours: Monday-Friday 8:00 am to 5:00 pm
Reviews
Everyone was so nice and friendly! Dr. A & Ashley made me feel comfortable and thoroughly explained the best treatment plan for me. I can see that there's light at the end of the tunnel for all of my skin care needs. Thank you!! 🙂
Positively the most helpful and professional team. They went beyond the scale of typical patient care and were able to accommodate somewhat unorthodox requests to best cater to the special needs of my daughter.
Dr Cervantes is a highly competent and caring physician! I like it that she sits and talks with me about my situation. I am a health care worker and she relates to me at a level that is comfortable for me. I highly recommend Dr Cervantes! The office staff have also been superb.
I think this is the first time I've ever had a doctor's visit that I wasn't waiting for the dr longer than the appointment actually was. It was our first visit and Dr Cervantes was thorough and answered all of my questions. We were out of the office faster than I would have ever guessed. The staff was very nice as well.
Very professional and courteous from the moment I entered to my departure. Explained everything very clearly. I was never rushed or made to feel as if my questions wouldn't be answered. Highly recommend a visit. One of the best practices I've been had the pleasure to encounter.
3. Vista Dermatology
Karla N. Muoz, MD, FAAD, the founder of Vista Dermatology, is a board-certified dermatologist. Dr. Muoz has been in private practice for 10 years and is a graduate of Harvard Medical Institution, the top-ranked medical school in the United States. This best dermatology clinic's ultimate aim with cosmetic treatments is to make their patients appear natural and rejuvenated.
They treat all areas of dermatology, including medical, surgical, cosmetic, and pediatric dermatology. The clinic takes pleasure in treating complicated skin problems while delivering great healthcare to its patients. Botox, Juvederm Ultra, and Ultra Plus are a few of the injectables, fillers, and non-surgical procedures available at Vista Dermatology. Juvederm Volbella, Radiesse, Chemical Peels, and Platelet-Rich Plasma are a few treatments available (PRP).
This Board-certified dermatologist provide expert evaluations, diagnoses, and successful treatments for San Antonio adults and children at this facility. Acne, Actinic Keratosis, Bullous Disease, Cutaneous Lupus, Dermatitis, Hair and Scalp Disorders, and Melasma are among the conditions they address.
Website: http://www.vistadermsa.com
Address: 27511 IH-10 W Bldg, 2, Boerne, TX 78006
Phone: (210) 698-0500
Services: Cosmetic, Medical & Surgical dermatology.
Office hours: Monday-Friday 8:00 am to 5:00 pm.
Reviews
Dr. Munoz is a fantastic doctor. Her credentials are impeccable. She is extremely skilled and has great patient rapport. She spent ample time with me and found some issues my previous dermatologist missed. Staff and facility are outstanding. Easy access to find facility. I would highly, highly recommend this doctor!
Super pretty and clean office! I was seen quickly and I felt like Dr. Munoz really took her time with my skin check and discussed my areas of concern. Everyone was welcoming and thorough. I felt confident leaving that nothing was missed and will definitely be returning for any future skin concerns/checks. Thanks Dr. Munoz and staff!
Great experience. First time going here and I was very impressed with the welcome/greeting when I checked in. Did not have to wait at all for my apt once I checked in. Dr. Munoz was very nice and addressed my concerns. Definitely will return here for all my skin/facial concerns.
The staff and Dr. Munoz were attentive to my needs, knowledgeable, compassionate, and friendly. They explained my procedure and patiently answered all my questions. I highly recommend this clinic and will myself return happily when needed.
The staff is friendly, the office is very clean and equipment is wiped down appropriately before and after use. Dr. Munoz is professional and knowledgeable—explained options and procedure well…made me feel very comfortable even though I was stressed. Grateful to have found her as I've been without a dermatologist for 2+ years
4. Texas Dermatology- Dominion
Texas Dermatology strives to provide the best quality skincare to Texans of all generations. They want to foster a collaborative and productive work atmosphere. Through education, research, and service, they aim to be a responsible corporate citizen and productive member of the community.
This dermatology clinic in San Antonio is led by Dr. John Browning and his colleagues, who are specialists in medical dermatology for patients of all ages. One can trust them to look after the whole family. The cost varies depending on the problem one has and the best therapy to enhance one's skin health.
All insurance plan determines a significant part of the cost of the therapy. Financing may be offered to provide patients with manageable monthly payments that suit their budget.
Website: https://texasdls.com
Address: 21727, I-10 2nd Floor, Suite 202, San Antonio, TX 78257
Phone: (210) 829-5180
Conditions they treat: Acne, Eczema, Birthmark & Skin growth removal, Psoriasis, Skin cancer, Keloid, Dermatitis, Chemical peels, Emsculpt, Laser treatments, PRP hair restoration & Plastic surgery.
Office Hours: Monday, Tuesday & Thursday – 7:00am to 5:00pm, Wednesday & Friday – 8:00am to 5:00pm.
Reviews
From receptionist to the Dr the whole staff was awesome and attentive to my needs. Very friendly I would definitely recommend this dermatologist office.
We're very satisfied with our experience at Texas Dermatology- Dominion. The staff is always nice and Dr. Bruffy actually takes times to listen to her patients and provide the best care for them. My daughter's skin issue is moving in the right direction now, we're so grateful!
This is the second visit I have made to Texas Dermatology. I had very little waiting time to be seen, and the NP and MD that I saw were great! They took their time to explain things to me, and they answered all of my questions. I am satisfied with their service.
It was my first visit to a dermatologist. It was easy to schedule online. I received a phone call asking for additional information from me and providing me additional information. The visit went well and everyone I interacted with was very professional.
Excellent customer service from the front desk staff, as well as the medical staff. I didn't wait long before getting called to the back. Dr. Ivanna was very attentive, answered all my questions, and made me feel comfortable. Definitely recommend this office!
5. Dermatology Specialists of San Antonio
This dermatology clinic is one of the best in San Antonio, and this is situated at 2520 Broadway Suite 202, San Antonio, TX 78215. The goal of Dermatology Specialists of San Antonio is to offer high-quality, customized treatment on an as-needed or preventive basis. Dr. Nicole M.
Owens leads an American Academy of Dermatology board-certified dermatologist with over 25 years of expertise in medicine and 15 years as a dermatologist. They've developed a technique that they believe in, and patients would select for their own family. They are a full-service dermatological clinic that believes in collaborating with its patients to enhance and maintain their skin health.
They collaborate to meet the whole family's skin, hair, and nail requirements at all phases of life. This dermatology clinic believe in offering their patients complete skincare treatments in a pleasant, relaxing environment. They also involve themselves rightfully in teaching patients while assisting them in achieving the greatest possible physical condition.
Website & Appointment: https://www.dermsouthtx.com
Address: 2520 Broadway Suite 202, San Antonio, TX 78215
Phone: (210) 541-4884
Services: Skin Cancer Screening and Treatment, Diagnosis and Treatment of All Types of Skin & Nail Conditions (Psoriasis, Eczema, Skin Allergy Patch Testing and Treatment, Phototherapy for the Treatment of Skin Conditions, Cosmetic Dermatology and Surgical Dermatology.
Office Hours: Monday-Thursday 8:30 am to 5:00 pm, Friday 8:30 am to 12:00 pm.
Reviews
Dr Owens is very personable and spends a lot of time explaining your skin issues and discusses your options with you. Her assistant Abby is also very helpful in explaining what she's doing. I am extremely happy to find a dermatology office who isn't focused on selling you skin product lines and cosmetic procedures.
Dealt w my concerns 1st; then thorough exam. Dr. Owens explained what she saw & the treatment. She dealt w many spots & showed great patience & concern throughout the visit. Just what I need in a dermatologist! Her assistant was great also!
The girls here are amazing!! Greeted at the front desk, taken to the back, Dr came out and gave me more info than I was expecting and super helpful. Everything here was seamless! I will recommend this place to a everyone I know.
Dr. Megan Harris is such a wonderful dermatologist. She always answers all of my questions in an extensive manner, and offers great treatment. She's very friendly and professional, and makes the patient feel at ease! The office is very neat and clean, and all her staff are helpful! Definitely recommend Dr. Harris' practice. 🙂
I have seen Dr. Owens many times over the years and always had a wonderful experience. I had the pleasure of seeing Dr. Harris my last visit and she was just as wonderful. They are very professional, the office is very clean and I was made to feel very comfortable by their extensive knowledge in their field.
6. Texas Skin & Vein
This dermatology clinic in San Antonio is led by Dr. Timothy Straight. He has been treating venous problems and skin issues for over 20 years and is considered a specialist in both. Dr. Straight established Texas Skin & Vein to establish a center of excellence for skin and vein treatment in Texas, focusing on the patient experience and achieving exceptional results.
With a wide range of medical expertise, he is particularly equipped to treat patients with severe varicose veins, vein disease complications, lower extremity wounds, and various skin problems. This dermatology clinic is equipped with the latest technological advances, and the team are known for their courteous behavior.
Texas Skin & Vein clinic make sure patients are well-treated at all times by providing the best of the services. They also accept major insurances – Aetna, Amerigroup, Cigna, Blue Cross Blue Shield of Texas & HealthSmart are among the many accepted ones.
Website & Appointment: https://www.txskinandvein.com
Address: 2241 NW Military Hwy #200, San Antonio, TX 78213
Phone: (210) 907-8346
Services: Vein Treatments – Ultrasound evaluations for venous reflux, Varicose vein evaluations, Endovenous procedures, Varicose vein treatment, US-guided sclerotherapy, Cosmetic/medical sclerotherapy, Laser treatment & Medical dermatology.
Office hours: Monday-Friday 8:00 am to 5:00 pm.
Reviews
Went in for my first dermatology appointment with Dr. Mike. I absolutely loved it, the office is clean, the staff is welcoming and super nice! They made me feel comfortable, answered every question I had. And Dr. Mike is just plain awesome! He doesn't recommend the high end expensive things, he made me feel hopeful for finally having clear skin. Highly recommend.
Great vein doctor. Dr. Straight is very knowledgeable of the laser surgeries he performs. He takes excellent care of you as a patient and his staff is equally as good. They are all friendly and follow up to make sure you are doing well. I highly recommend if you have vein problems he is the one to go see.
Dr. Mike De La Vega was very gentle and clearly explained everything to me. I felt very comfortable and confident that my procedure would go well. The service was fast and the office was clean. The staff was friendly and personable.
Honestly one of the best clinics I've ever been to. Dr straight is beyond amazing, Mike is great, the staff are super friendly and patient. I believe I was very lucky to find an amazing clinic! Both me and my mom go there and we couldnt be any happier!
Dr. De La Vega was very personable, and sensitive to my concerns. The office staff was friendly, and maintained a happy low stress environment. They were prompt and efficient. It's nice to have a Dr.Office that respects your time.
7. Dynamic Dermatology
Sarah Groff, MD – Dynamic Dermatology provides unrivaled service and real-world outcomes. Their goal is to offer exceptional patient care in a pleasant and inviting atmosphere. Dr. Groff, who has expertise in medical, surgical, and cosmetic dermatology, leads and established the clinic in 2019. Dr. Groff is a meticulous, sensitive, and kind physician who treats her patients as if they were her own family. Every patient and employee is treated as if they were in the presence of family.
Every therapy is tailored to the client's requirements to assist them in achieving their objectives swiftly and efficiently. They want every patient to look and feel their best. Dynamic Dermatology is one of the top dermatology clinics in San Antonio because of its highly skilled team, modern technology, and relaxing environment.
Website & Appointment: https://www.dynamicdermatology.com
Address: 13535 Hausman Pass Suite 104, San Antonio, TX 78249
Phone: (210) 951-5530
What they treat: Acanthosis nigricans, Acne, Actinic Keratosis, Basal Cell Carcinoma, Dysplastic Nevus, Eczema, Fungal infections, Hair loss, Hyperhidrosis, Psoriasis, Seborrheic Keratosis, Chemical Peels, Botox, IPL Laser, Fillers, PRP & Surgical dermatology.
Office hours: Monday-Friday 8:00 am to 5:00 pm.
Reviews
First timer here! Just came in today and met with the sweetest PA-C who's name was Vanessa. Very sweet, attentive, encouraging, and so helpful. She made sure nothing was left unturned and answered every question with so much knowledge to share. She's awesome!
Easy to contact and set appointment. Professional and friendly staff. Dr Groff was very warm and user-friendly and these visits are always stressful due to the nature of the exercise. I was made to feel comfortable and had all my questions answered.
This is my first experience with a dermatologist. She is so nice and personable. Sarah listens to you and takes you seriously. Absolutely changed my life just by clearing up my acne. Doctors visits are fast. The place is clean and organized. Can't beat it.
Dr. Groff is an excellent doctor. She took the time to address my issues and explain everything to me. Office personnel is very nice and professional. I am glad I chose Dr. Groff as my dermatologist
I cannot recommend this office enough! They were quick, efficient, kind, and clear. They ensured that all of my concerns were addressed and were ready to answer any and all questions. It was a great experience and I am so happy that I found this practice!
8. Ochs Dermatology

Dermatologist Dr. Robert L. Ochs practices in San Antonio, Texas. He graduated from the University of Texas Medical School and has been practicing medicine for over 20 years. Dr. Ochs practices a range of dermatology specialties, including general, pediatrics, and surgical dermatology, and aims to provide personalized and sensitive treatment.
Coolsculpting, Micro-Needling, Filler therapy, and other cosmetic treatments are among their offerings. Dr. Ochs' creative flair shines through in the Aesthetic aspect of Dermatology. He and his team pay meticulous attention to detail, and dedication to perfection results in stunning aesthetic changes that patients will be proud of.
They are known for their kind nature & welcoming staff to quickly help patients and reassure them that the associated problems with their skin will be solved.
Website: https://ochsdermatology.com
Address: 14855 Blanco Rd #214, San Antonio, TX 78216
Phone: (210) 493-1568
Services: General, Paediatric & Surgical dermatology.
Office Hours: Monday-Thursday 8:30 am to 5:00 pm, Friday 8:30 am to 12:00 pm.
Reviews
I have been going to Dr. Ochs for almost 3 years now and he is just as fantastic as all the others reviewers have said. The office staff is ALWAYS friendly, I never have to wait, and Dr. Ochs is just the best. I trust him implicitly.
Dr. Ochs is truly amazing! He has amazing bed side manner and takes the time to explain everything while addressing my concerns. I highly recommend him and his staff!
Great doctor. Almost no wait time to see him. He doesn't seems to be in a rush when he's talking to me. I been to a few dermatology for some skin condition I have. The other dermatologist weren't able to cure my condition, but my condition have got better since seeing him.
Professional, kind and consistently provides a positive experience with every visit! I agree with one of the other reviews here – Dr. Ochs has wonderful skin and that's why I trust him as my dermatologist from medical issues to cosmetic procedures!
This is the first doctor's office where I have arrived early and they have seen me early. They are prompt and efficient and very friendly. I love Dr. Ochs as well; he has the most beautiful skin I have ever seen – as a dermatologist should!