We researched over 100 dermatologist in Arlington, and out of these, we've listed the 3 best and most popular dermatology clinic according to our team research, customer reviews, and popularity. See our business selection process.
Also See: Find Best Dermatologist Near Me (Search By Zip Code)
1. Metroplex Dermatology
If you're searching for the best skin care clinic or experienced Dermatologist in Arlington, TX then you should visit Metroplex Dermatology clinic. This is a cosmetic and general dermatology practice in Arlington city of Texas state. Led by board-certified dermatologist David Hensley, MD, the practice's top priority is to provide the highest standard of skin care available.
No matter what your age is, they offer dermatological care for patients of all ages including teens and adults. Here dermatologists use state-of-the-art technology and provide a comprehensive menu of general and cosmetic services. Metroplex Dermatology experience and expert in diagnosing and treating many common skin concerns such as acne, hair loss, and wrinkles.
Here they also provide cosmetic dermatology services like Botox®, fillers, micro needling, HydraFacial®, skin tightening, and chemical peels. One can also get laser-assisted procedures like laser hair removal, acne therapy, birthmark removal, and skin rejuvenation. Metroplex Dermatology and dermatologists of this clinic are confident enough that they can deliver high-quality dermatological care for Arlington and nearby communities who need to keep skin healthy and beautiful for years to come.
Address: 300 W Arbrook Blvd Ste D, Arlington, TX 76014
Phone: (817) 704-4777
Open Hours: Mon – Fri (8 am – 12 pm, 1-5 pm), Sat & Sun (Closed)
Website: https://www.metroderm.com
2. Arlington Center for Dermatology

Angela Yen Moore is Board Certified Dermatologist at Arlington Center for Dermatology. At this Dermatology clinic, you will get medical treatment with friendly staff, helpful assistants, and a knowledgeable and caring team Dermatology Specialists. As you know, quality skin care is not just for models or actresses. Dr. Moore and her medical team are prepared to serve all persons from infants to children who may need care with eczema, dry skin, birthmark or strange rashes.
Pre-Teens to College age youth may benefit from acne treatment skin cleansing advice from this skin care clinic. Dr. Moore and her team can provide solutions for both men and women as they age. Dr. Moore and her team of highly trained dermatology health care providers are ready to help you at any stage of life obtain healthy and vibrant skin and hair.
Dr. Angela Moore is a leading dermatologist in her field, actively participating in leading clinical trials for new treatments for a number of skin diseases. Dr. Moore is on the cutting edge of new medications and treatments for psoriasis, acne, hair loss, vitiligo and a host of other skin conditions. She also offers a wide array of medical grade skin care products that include moisturizers, sun-screens, and skin revitalizers. She also provides a variety of cosmetic lasers and cosmetic procedures for skin beautification.
So if you have a skin need or want skin improvement, Dr. Moore and her team can help you.
Address: 711 E Lamar Blvd #200, Arlington, TX 76011
Phone: (817) 795-7546
Open Hours: Mon – Thu (7 am – 4 pm), Fri (7am – 12 pm)
Website: https://www.arlingtonskindoctor.com
3. United Dermatology Associates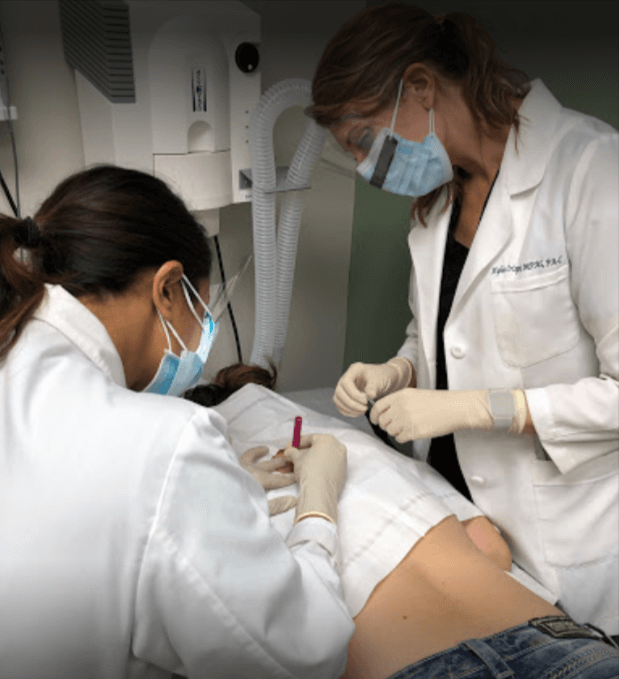 United Dermatology was started by Dr. Jeannine Hoang with a mission to provide all over Texas with an unparalleled commitment to patient care, helping patients look and feel beautiful everyday, and with the goal of bringing world-class skin health care to Mansfield, Arlington, Flower Mound and Burleson areas.
Dr. Hoang is experienced in all facets of dermatology; from cosmetic and aesthetic care, to medical dermatology, to dermatological surgery. So if you're not interested in the above 1st and 2nd options then you can choose to visit United Dermatology Associates for the skin care treatments.
Address: 723 N Fielder Rd Ste C, Arlington, TX 76012
Phone: (817) 261-1122
Open Hours: Mon – Fri (8:30 am – 5 pm), Sat & Sun (Closed)
Website: https://unitedderm.com