The current state of your teeth will determine how many times you grin during the day. Even if you've grown accustomed to not smiling as much or hiding your teeth with your palm, you might want to consider seeking the help of a Cosmetic Dentist in Los Angeles.
Related: Find Top-Rated Dentist Near You | Find By City and Zip Code
1. Dr. Bill Dorfman, DDS – Century City Aesthetic Dentistry

A cosmetic and sedation dentist in Los Angeles practices all facets of dentistry and uses cutting-edge cosmetic dentistry to produce stunning smiles.
Century City Aesthetic Dentistry, led by Dorfman, DDS, provides a comprehensive spectrum of cosmetic dentistry services, including dental crowns, porcelain veneers, and dental implants. In the Los Angeles area, they also offer sedation dentistry so that you can be relaxed and comfortable during your procedures.
They understand that you want a cosmetic dentist in Los Angeles who will listen to precisely what you want to achieve with your aesthetic dental operation while preserving your teeth' function and health. They comprehend as well.
Website: https://www.billdorfmandds.com
Address: 2080 Century Park E Ste 1601 Ste 1601, Los Angeles, CA 90067
Phone: (310) 277-5678
Working Hours: Mon – Fri (7:30 am – 5 pm)
Services: Cosmetic Dentistry, Porcelain Veneers, Dental Crowns, Teeth Whitening, Tooth Colored Fillings, Dental Bonding, Dental Implants, Dentures, Dental Bridge, Gingival Mask, Sedation Dentistry, General & Family Dentistry, Preventative Dentistry, Fresh Breath.
Reviews
Dr. Dorfman was a speaker at NPHC and our students really enjoyed his presentation. Thank you for inspiring the next generation of healthcare professionals!
I'm in the first day of Dr. Sir Bill Dorfman's Leap program. I'm super excited for the rest of the week and the fun stuff they have in store for us.
If you're nervous about visiting a dentist, Dr Bill Is the person you need to see. He's extremely talented but more importantly, makes you feel at ease in his office. Would highly recommend to anyone who's searching for a new dental office or dentist in Los Angeles. 10/10
2. Beverly Grove Dentistry
Beverly Grove Dentistry clinic is located in the heart of Los Angeles. This popular dentistry clinic is committed to providing you and your family with safe, gentle, high-quality dental care.
They recognize that going to the dentist might be stressful for you or your child. They are sensitive to your needs, and it is our mission to make you feel at ease while providing you with an adequate possible treatment.
They know that you have many choices in healthcare providers at their office, and they thank you for choosing their clinic. Beverly Grove Dentistry takes pride in creating a comfortable and relaxing environment where patients know they are in good hands.
Donna Lieu, DDS, and Sarah Farzan are the two best and experienced dentistry service providers at this clinic. You can choose any of these two dentists, reach your oral health potential, and achieve smiles to last a lifetime.
Website: https://www.beverlygrovedentistry.com
Address: 6200 Wilshire Blvd #1109, Los Angeles, CA 90048
Phone: (323) 238-8114
Working Hours: Mon (9 am – 6 pm), Wed (8 am – 5 pm), Thu (8 am – 5 pm), Fri, Sat, Sun & Tue (Closed)
Services: Dental Implants, Veneers, Cosmetic Dentistry, TMJ, Crowns, Bridges, Mouthguards, Invisible Braces, Pediatric Dentistry.
Reviews
Beverly Grove Dentistry is fantastic!! Dr. Farzan is a kind, compassionate dentist and the staff are all amazing. Dental hygienist Audrey is fun to talk to and really helps calm my nerves. I definitely recommend Beverly Grove Dentistry.
We are so happy to have found Dr. Donna Lieu. She not only did a beautiful job on a front tooth filling for me, which eradicated a small black stain other dentists failed to address, but she just did more excellent work on front tooth fillings for my husband. She gets an A+ in aesthetics and everything else.
Always have a great feedback at Beverly Grove! Everyone there is super friendly and makes the experience efficient and pleasant. Plus the views out the window are amazing!! Would definitely recommend.
3. LA Dental Clinic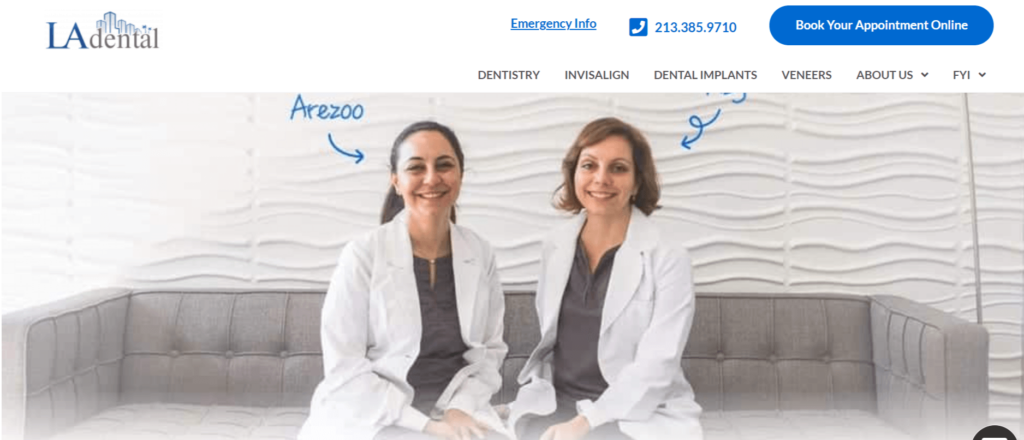 LA Dental Clinic is located in the heart of Koreatown, part of central Los Angeles. They are easily accessible by both transits as well as by car. Street parking is available directly outside of the clinic. One of the best things about this clinic is that they also have underground parking available in the building.
LA Dental Clinic is run by two sisters, Dr. Azy and Dr. Arezoo Nasiry. They own the practice together and are both practicing dentists in the clinic. The Nasiry sisters have a professional experience and education of more than many years in the dental field in Los Angeles.
The two organizations co-host several innovative initiatives for prospective dentists and women in the dentistry field. They are dedicated to providing exceptional service and are known for their excellent knowledge and polite, caring nature.
Website: https://www.ladentalclinic.com
Address: 3377 Wilshire Blvd #202, Los Angeles, CA 90010
Phone: (213) 785-7837
Working Hours: Mon – Wed & Fri (8 am – 4 pm), Thu (9 am – 5 pm)
Services: General Dentistry, Cosmetic Dentistry, Restorative Dentistry, Orthodontics, Sedation Dentistry, Dental Implants, Oral Surgery
Reviews
Dr. Nasiry is very nice and professional. She always makes sure that I am comfortable and in no pain. The entire staff is nice and very easy to talk to. I am pleased with the work that Dr. Nasiry has done they have gained a lifelong patient with me. I would recommend this dental clinic.
Amazing diverse dentist office! Everyone is super nice and friendly. I'm not from LA but choosing this dentist was very easy due to their great service. I recommend this office to anyone searching for a new dentist in the area!
LA Dental Clinic is the best! The whole staff were very informative, communicative, and best of all, welcoming. Dr. Naziry and her team are great. I was in and out in 40 minutes, and left my dentist appointment feeling happy.
4. Dr Arthur A. Kezian, DDS – Los Angeles Dentist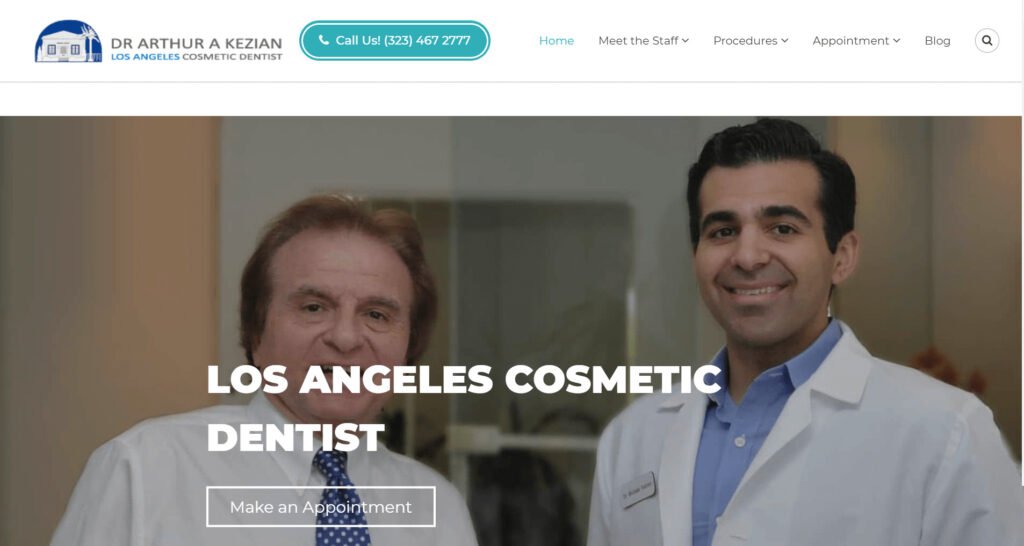 Dr. Arthur A. Kezian and their dentist clinic are well-known around all over Los Angeles city. The entire dental staff of this popular dental clinic of LA is dedicated to restoring patients' teeth and gums to health and focusing on preventative care and patient education.
Dr. Arthur A. Kezian's dental office has a small, friendly atmosphere that puts its patients at ease. You won't find a crowded waiting room or have trouble scheduling timely appointments. One important fact about Dr. Arthur A. Kezian DDS has over 2500 credit hours in numerous specialties, including Cosmetic Dentistry, Root Canal Therapy, Dental veneers, Teeth Whitening, Porcelain Crowns, and Dental implants and dental implants in Los Angeles.
Dr. Arthur A. Kezian's and their experienced team approach assures your involvement in every dental decision, from determining your needs to establishing a dental care plan. Our commitment is to provide you the highest standard of personalized dental care in a gentle, efficient, and professional manner.
So if you're looking for an experienced and professional dentist near your location in Los Angeles city, then Dr. Kezian might be an excellent option for you or your family members.
Website: https://www.drkezian.com/
Address: 443 N Larchmont Blvd, Los Angeles, CA 90004
Phone: (323) 467-2777
Working Hours: Mon – Fri (8 am – 6 pm), Sat (10 pm – 2:30 pm), Sun (10 am – 3:30 pm)
Services: Porcelain Veneers, Implant Dentistry, White Dental Fillings, Dental Bleaching, CEREC Dentistry, Root Canals, Gum Treatments, Digital Dentistry, Emergency Dental Treatment.
Reviews
The offices are clean and comfortable, the staff very friendly, and it may be the most sanitary, spotless and cautious business I've visited in Los Angeles pre and post covid. Everyone is so nice and accommodating. They really make "going to the dentist" a pleasurable experience.
Very Friendly staff. Thorough and painless experience every time. Comfortable setting with top of the line equipment and knowledgeable Doctors. I could not recommend this Dentist Office enough. 5 Stars rating across the board!
I've been a patient well over 15 years simply because the staff is awesome and the doctors are gentle, patient and they listen to your concerns. I can't remember the name of the new young doctor that went over my treatment plan , he explained everything so clear. I just love Narine, she is the best.
5. Los Angeles Dental Arts: Theodore Burnett, DDS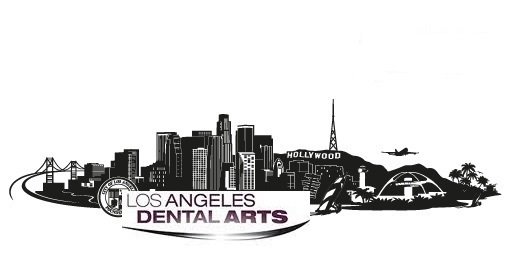 Theodore Burnett, DDS, is an accomplished general, cosmetic, and biomimetic dentist with many years of expertise. At this Los Angeles practice, Los Angeles Dental Arts, Dr. Burnett uses state-of-the-art technology that allows him to quickly and effectively treat most dental concerns.
Apart from general dentistry, Dr. Burnett has extensive training in cosmetic dentistry and uses the latest techniques to provide his patients with the smiles of their dreams. At his dental clinic in Los Angeles, Dr. Burnett has created a welcoming office atmosphere, equipped with cutting-edge technology to ensure that his patients receive the specialized care they require.
One of the best things is that they accept most dental insurance plans from companies like Aetna, Anthem, Cigna, Metlife, Guardian, and many more.
Website: https://www.losangelesdentalarts.com
Address: 8540 S Sepulveda Blvd #918, Los Angeles, CA 90045
Phone: (424) 266-8508
Working Hours: Mon & Wed (7:30 am – 6 pm), Tue & Thu (8 am – 4 pm), Fri ( 8 am – 12 pm)
Services: Cosmetic Dentistry, Dental Bridges, Dental Crowns, Root Canal, Dental Implant, Emergency Dentistry, Teeth Cleaning, Gum Dissease.
Reviews
Dr.Burnett is by far the best dentist I have visited. I have never had such thorough care. He truly makes going to the Dentist enjoyable. In addition, all of the staff are rockstars and are super friendly and attentive. You can trust that your smile is in excellent care here!
Painless, professional and practical! The best people and the absolute greatest Dentist in the world! They treat you better than family and you much more than your moneys' worth. Dr. Burnett and his staff are hands down…the best! And I hate needles..💉
Very personable. Everyone was friendly and informative. The office was clean and everyone had on mask. I normally hate visiting the Dentist but this time I felt relaxed. I recommended this Los Angeles based Dentist!! Great Job!
6. Children's Dental FunZone – West Los Angeles
This is one of the most unique and popular dental clinics in Los Angeles city. At this Dental FunZone, your child's dental appointment can be enjoyable! Their patients can't wait to return for their next appointment because they have tablets in the waiting area, fantastic prizes, and movies to view throughout the treatment.
This clinic's providers or dentists are highly trained to provide the care newborns, children, teenagers, and special needs patients require. They are offering sedation dentistry to ensure that your child has the most relaxing experience possible. They accept all private insurances, including Denti-Cal, and offer financial aid with no interest payment plans to make care more accessible.
If you're looking for a pediatric dentist or kid dentist near you in Los Angeles, then, believe me, this might be a non-forgettable place for you as well as for your child.
Website: https://childrensdentalfunzone.com/locations/west-la/
Address: 8525 W Pico Blvd, Los Angeles, CA 90035
Phone: (424) 230-8430
Working Hours: Mon – Fri (8 am – 5 pm), Sun (8 am – 2 pm), Sat (Closed)
Reviews
Children's dental fun zone is so professional, clean, and very helpful! Mu kids love coming and love the prize they get at the end of the visit!
My kid hates DRs, basically doesn't like strangers but one assistant took some X-rays and he did amazing interacting with my son, I love it when they interact with the patient, the job is easier for both lol, especially with little kids they get scared! definitely coming back and totally recommending this place
My daughter's cap came out, and we called to the dental. That was Sunday, but I got answered, and an appointment was scheduled on Tuesday, which is excellent. Everything was quick and professional. Although I told them we live far away from this place and cannot get back, they checked all the teeth and provided us all the documents about the further needed treatment. Highly recommend this place!
7. Children Dental World
At Children Dental World, we recognize the value of having a dental clinic that delivers excellent treatment for your kid. Their dentists and team are dedicated to providing attentive care and the highest quality dental services to every patient. You or your child, as one of their patients, deserve nothing less.
Their pediatric dental services include the prevention, diagnosis, and treatment of a wide range of disorders and conditions that impact your child's teeth, gums, and oral health. Their practice provides limited general dentistry treatments to adults and older, depending on the location: Extractions, both surgical and straightforward, scaling and root planing, fillings, crowns, and more.
At Children Dental World, they are dedicated to keeping your child's oral health in top shape. They accomplish this by addressing all present and potential dental concerns throughout your visit. Their goal is to educate and inform you, the parent/guardian so that you can make the best decision for your child.
Website: https://www.mychildrendentalworld.com
Address: 2805 San Pedro St, Los Angeles, CA 90011
Phone: (323) 846-8443
Working Hours: Mon, Tue, Thu, Fri (10 am – 6 pm), Sat (9 am – 2 pm), Sun (Closed)
Services: Cleanings & Fluoride Treatments, Dental Fillings & Extractions, Tooth Colored, Crowns(And Stainless Steel Crown), Space Maintainers, Root Canals (Endodontics)
Reviews
This place is amazing!!! Bring your kids here they treat them so well. My son has been coming here since he was a toddler and the staff know him by name and always catch up with him. He has become so welcomed and isn't afraid to get work done on his teeth. Thank you staff!!!
The staff here is great! Always so friendly & always make sure you feel comfortable. Love how the wait is no more than 15 min. They take you in really fast. Great service! Such a good clean and organized Dental Office.
There is no other Dentist my kids trust since we brought them to Children Dental World. The staff at Children Dental World are really attentive and make my kids feel very comfortable during their visit. Come and check this amazing place, every patient will have an exciting visit to the Dentist.
8. Super Kids Dental LA
Super Kids Dental LA is one of the few pediatric dentistry clinics that allow parents to accompany their children into treatment rooms because they believe it is essential to witness how they treat their children. They are firm believers in fair and ethical practices, and they want to build long-term relationships with their patients.
This clinic's dentists and medical staff are passionate about offering the best dental care for children at Super Kids Dental. They are proud of their customer service and the amount of effort they put into connecting with their patients. They treat their patients like family because they understand how important it is to feel at ease.
They use the most up-to-date dental equipment for kids, including digital x-rays with quick results, digital patient charts, nitrous gas to help your child relax, and more. Boyle Heights, East Los Angeles, El Monte, and Santa Ana are the four sites where Super Kids Dental currently operates offices.
Website: http://www.superkidsdental.net/
Address: 2323 East 4th St, Los Angeles, CA 90033
Phone: (323) 980-9090
Working Hours: Tue – Fri (10 am – 7 pm), Sat (8 am – 4 pm), Sun & Mon (Closed)
Services: Comprehensive Examination, Teeth cleaning (Prophylaxis), Digital X-Rays, Sealants to prevent cavities, General Anesthesia, Nitrous Gas, Stainless Steel Crowns, Space Maintainers, Fillings
Reviews
My kids had been coming to this super kids in Boyle heights since they were 3 years old. It's a very clean environment. Friendly staff. Always nice and good dentist.
I honestly recommend Super Kids Dental in Boyle Heights they have amazing service with their customers! Every visit I am delighted knowing I will be treated with respect and kindness.
Super good place! The staff and assistants are great and friendly. The environment is clean and well taken care of. Recommend this place to anyone, especially kids. This place is great for kids, due to the amazing art work they have and playful decorations.