The aftermath of Fourth of July celebrations throughout the United States is starting to show in the sky above a number of states.
While wildfires continue to wreak havoc in portions of the United States and Canada, resulting in poor air quality, fireworks displays may be temporarily worsening the situation.
Fireworks may contribute to air pollution, says Nicholas Sanders, an associate professor at Cornell University who specializes in environmental policy and quality. This is especially true in locations where wildfires and other kinds of pollution are prevalent.
Fireworks and Air Quality
Bright fireworks displays, although impressive, have been linked to increases in sulfur dioxide and particle pollution.
When levels of pollution from other sources are already high, this has an especially negative effect on air qualities. Because the pollution stays there instead of dispersing, its effects are magnified in regions with little wind and dry weather.
Sanders, though, tells us that fireworks pollution is usually just brief and does not create permanent damage.
Health Precautions
Temporary discomfort to the eyes, nose, and throat is possible owing to increased pollution levels from fireworks, although these effects are short-lived.
Those who are especially vulnerable to the effects of pollution increases, such as young children and those with respiratory or cardiovascular diseases, should take additional safety measures.
They may, for example, be encouraged to wear N95 masks when outside (which assist filter out pollutants) or reduce their exposure to huge fireworks displays. When the Air Quality Index (AQI) is over 150, Sanders says it's best to remain indoors or wear a mask.
Staying hydrated helps the body's natural defenses against pollution by increasing tear and mucus production, therefore having an indoor air purifier and doing so is also suggested.
The Battle Against Wildfires
As the United States continues to deal with the aftermath of years of devastating wildfires, it is particularly important for those with respiratory conditions to take precautions when stepping outside. Sanders urges people to be watchful and to take safeguards.
A few things you can do are keep an eye on the air quality index (AQI), remain indoors or put on a mask, and drink plenty of water. Access to air purifiers is also helpful since it allows people to keep their indoor air cleaner.
Current Air Quality Conditions
Depending on where you are in the United States, the AirNow Air Quality Index will show you how clean the air currently is. Air quality was worse around Tacoma, Washington on Wednesday morning, while San Bernardino, California reported "very unhealthy" conditions.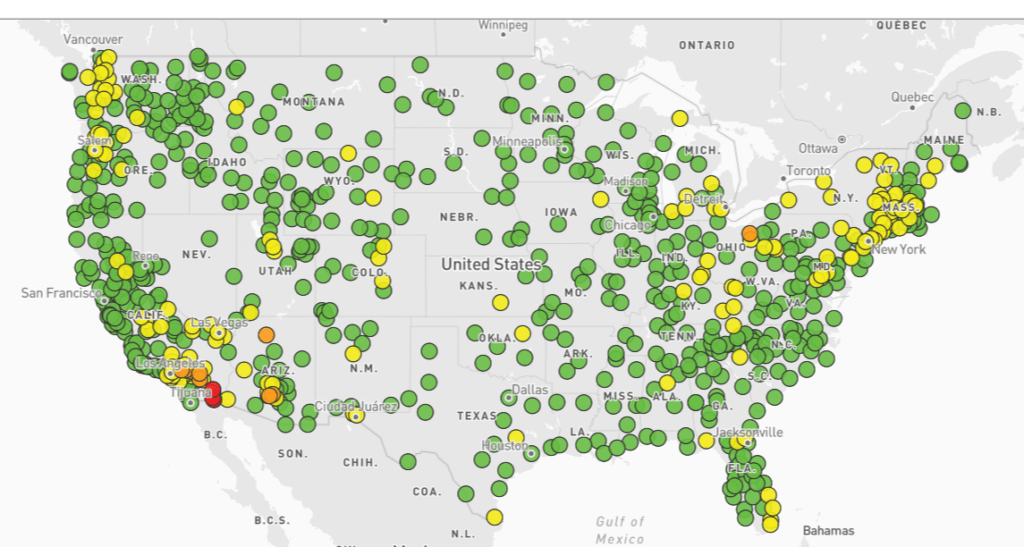 Regions of Illinois, Indiana, Ohio, and Wisconsin had air quality that was somewhere between moderate and unhealthy.
Although much of the East Coast reported moderate air quality, the worst conditions were seen in northern New Jersey.
Impact of Wildfires
Wildfires are still burning in sections of Arizona, Colorado, and New Mexico, according to a wildfire and smoke map created by the Wildland Fire Interagency Geospatial Service.
The air qualities in the impacted areas has substantially decreased due to these wildfires. Additionally, Canadian wildfire smoke continues to blow into the United States, adding to the already poor air quality there.
This wildfire crisis has far-reaching effects, as shown by the National Oceanic and Atmospheric Administration's confirmation of Canadian smoke.